The CW Announces Season Premiere Dates for 'The Flash' and 'Supergirl'
'Arrow' and 'Legends of Tomorrow' also return.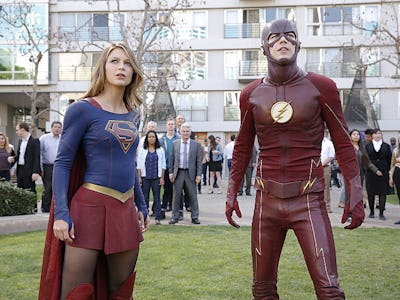 The CW
Superheroes from the DC Comics universe will return to the CW this fall, and the network just announced the premiere dates: Supergirl, The Flash, Arrow, and DC's Legends of Tomorrow will all return in early October.
The Flash, starring Grant Gustin as the scarlet speedster, will return for its third season on Tuesday, October 4. Arrow, starring Stephen Amell in the show that launched the current DC TV universe, will begin the next day, on October 5.
The following week, Supergirl, starring Melissa Benoist will premiere its second season (and the first on the CW network after leaving CBS) on October 10, while the sci-fi crossover series Legends of Tomorrow will begin on October 13.
The line-up maintains the weekly schedule DC shows had last season, the only difference being that Supergirl now airs on the CW instead of CBS. Now that the DC shows are on the same network (except for the Batman prequel Gotham on Fox), the show's executive producers hint that a major four-series crossover is in the works.
It's interesting that The Flash begins the fall TV season as it's one of the highest-rated CW shows. It helps that it's a really good TV show regardless if you like superheroes or not, but so are Supergirl and Legends of Tomorrow. Sorry, Arrow.