Here's the Latest Way Apple Has Tried to Kill Spotify
Spotify thinks streaming music monopolies ain't cool at all.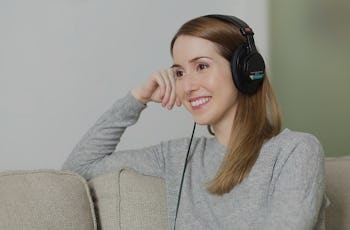 Apple would very much like Spotify to die. Apple Music, the tech congolmerate's music streaming service, has been struggling to keep up with the popular favorite since its launch a year ago. And it appears Apple isn't afraid to play dirty — it denied Spotify's latest iOS update, meaning the stream service's iPhone users can't get the latest version. The conflict is over money, of course. Apple says it doesn't like the fact that Spotify users tend to pay for its Premium service via Spotify itself, and not via the App Store, which allegedly gets in the way of Apple's "business model rules."
Recode reports that Spotify took preliminary action earlier this week by sending a letter to Apple's legal team when their app update was denied. The letter highlights the extent to which Apple's questionable strategies affect apps like Spotify. Since its iOS app is vital to its continued success, Spotify can reasonably argue that Apple — by preventing Spotify's newest app update from hitting the App Store — is attempting to monopolize music streaming.
With 15 million paid subscribers as opposed to Spotify's 30 million, Apple faces quite a fight. Spotify will not go down easy.
Spotify's top lawyer Horacio Gutierrez wrote that "we cannot stand by as Apple uses the App Store approval process as a weapon to harm competitors."
Five years ago, Apple effectively began taxing services, like Spotify, that circumvent its native App-Store billing client. Apple started taking up to 30 percent of these apps' revenues if they opt out of using the client, and discourages using their iOS apps to market outside subscriptions. Spotify wound up having to charge $13 for App Store subscriptions, but encouraged users to save the three bucks and subscribe on its website instead. Now, with Apple blocking an update, things could turn even uglier.
Spotify is no stranger to this dispute. In January, it raised $500 million to help ward off competitors. And it's been working on cutting customers breaks as well: last month, it offered a dirt-cheap family plan. With TIDAL (sort of) in the mix, and Amazon Music making its own case, 2016 will be a year to sit back with popcorn and watch the big music-streaming big dogs fight over the last pork chop.
Whichever service you choose to support, just don't do what this guy did.