Does Spotify's New Price Cut Make It the Best Deal in Streaming?
The music-streaming service is playing catch-up with Apple Music and Google Play.
by Kastalia Medrano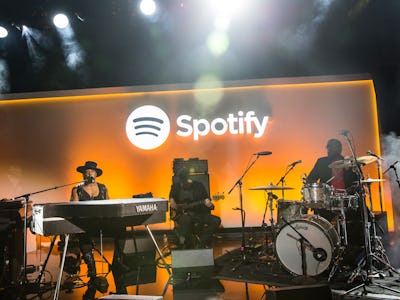 Getty Images
Spotify just announced an upgrade in its family plan — six people can now use Spotify Premium accounts for $14.99 per month. These numbers match precisely both Apple Music's and Google Play Music's family plans.
Spotify, which previously only allowed two accounts on the family plan for that price, is clearly feeling the heat from its competitors – only Tidal now lags behind, price-wise ($14.98 for a two-account family plan). Also, apparently Canadians need not apply? The upgrade is available literally everywhere except Canada. Weird, though maybe Spotify has plans to bring them into the fold eventually.
Spotify Premium's family plans have been around (at the old, unimproved price) since October 2014. Spotify has nearly three times the number of subscribers as Apple Music (Google Play doesn't release those numbers), but it seems the company still feels threatened. Probably not by Tidal, but, you know, the other guys for sure.
Anyway, cue lots of youths talking about their Spotify Premium #fams now. It's not like there's a genetic burden of proof for any of this stuff; you can sign up with a group of six friends or roommates or coworkers or whatever as long as you settle on one primary account holder, to whom the others pay their monthly portion directly. You'd each be spending just under $2.50 a month, which is not a bad way to go. Spotify and Apple Music have about the same number of available songs, so all in all competition seems fairly close at this point – Spotify is vastly more popular, but that's in large part because it's been around so much longer (2008 to Apple Music's 2015). The only thing Apple Music really has now over Spotify Premium is Taylor Swift, which is very helpful as my personal tie-breaker at this juncture. Spotify wins.