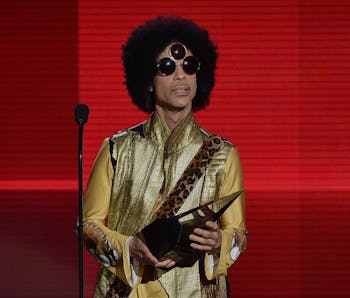 Entertainment
Will Prince's Music Come Back to Spotify Now That He's Died?
The revolutionary pop artist is dead at the age of 57. 
Kevin Winter/Getty Images
Prince Rogers Nelson, or simply "Prince" as he was best known on stage, died Thursday at the age of 57 at his suburban Minneapolis home in Chanhassen, according to the AP who received comment from the rock star's publicist confirming his death.
While the world is a little less funky with him gone, Prince's music will undoubtedly continue to inspire young musicians with its fierce sense of sensual guitar-driven music that broke the boundaries of what pop music could be with hits such as "When Doves Cry," "Purple Rain," and "Cream."
But for all the genius that came with his music, an equal amount of controversy surrounded the control of that music — and that debate will surely continue on well after his death and into the music-streaming era.
His battle with record labels most famously culminated in a public appearance in which he had written "Slave" in big black bold letters on his face to show he had no control over his name or music when negotiating with his label Warner. For many years, he became a symbol railing against the record companies, referring to himself as "The Artist Formerly Known As Prince."
He would shamelessly purge old tapes and pawn them off as records to fulfill the contractual obligations of his deal with Warner, but even those sub-par recordings haven't made it to Spotify and Apple Music due to his vocal resentment of the traditional music streaming services.
Jay Z's Tidal is the only place he's made his library of recordings available. That includes his latest albums HITNRUN phase one and two, which he recorded back with the "slave" label Warner. Though, ever unpredictable, Prince did released the single "Stare" on Spotify in 2015, and it remains his only track on the service today.
There's no official word yet on who now has control of his music, but parts of his discography have been released under just about every major label as well as his own defunct Paisley Park Records and the still-active New Power Generation (NPG) Records. With over 40 studio and live albums in his discography, it's going to be a long-drawn-out battle over who has control of that valuable music, who profits from it, and where it's streamed.
Of course this isn't the first time a battle over the control of the dead's music has been waged, and it won't be the last. The Beatles have constantly fought for control of their music and only recently released their music to Spotify well after the deaths of George Harrison and John Lennon.
While Michael Jackson's music has made its way to Spotify, the control of his publishing assets, which includes much of the Beatles catalog, has been a long storied process that most recently culminated in MJ's estate's sale to Sony.
The supergroup Traveling Wilburys don't release their music on Spotify, even with two of the members gone, and several artists still alive remain hold outs due to moral objections, including Taylor Swift, Neil Young, and Thom Yorke.
Which raises the question, how do you treat an artist's work after they die? Nick Drake notably killed himself and found fame after death in those songs that would go on to be used in commercials, movies, and TV shows exploiting and profiting off a lot of the vulnerabilities he sang about on those records. But at the same time, his family greatly benefitted from his work and were able to elevate his popularity to a new generation of musicians.
In time, the same will surely happen to Prince's music, whether that's tomorrow or 70 years from today, as current copyright law states. In the meantime, his family and loved ones will need and deserve the income that comes from the distribution of his music, and the record companies will have big glazed-over money signs attached to their eyes thinking of the compilation CD and vinyl releases to come. It's just a matter of how much of his principled and moral objections will have to be sacrificed to get there.