Somehow I Subscribe to Four Different Music Streaming Services 
2016 has been a great year for music, but the amount of music streaming subscriptions I have is getting out of hand.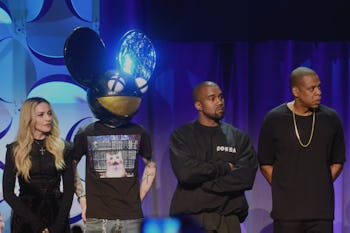 Getty Images / Jamie McCarthy
It happened to me and it may have happened to you. The other day I realized that I subscribe to four different music streaming services. At the beginning of 2016, I only had a free Spotify account. I'm trying to figure out how the hell I went from zero to four paid subscriptions in the span of six months.
A few years ago when streaming services hadn't made their foray into the mainstream, I downloaded the music I wanted to listen to and kept it in my iTunes library. Since it contained all the music I went out of my way to get, my iTunes library was my holy sanctuary of music, where I sifted through thousands of songs to pick one or an album that matched my mood or uplifted it. I still have all the music in my iTunes library, but streaming services have officially—for better or for worse—trumped that cultivation process.
Spotify
Spotify is my preferred streaming service, and I honestly wish other streaming services that have since cropped up would have just left it to Spotify to consolidate the music everyone wants to hear in one place. But the ads got to me. Excitedly anticipating the next song on an album only to be shoved out of the moment by a high-energy narrator blabbing about dog food began to detract from my music listening experience. At only $10 a month, a premium Spotify subscription didn't seem like such a bad idea.
Tidal
When Kanye released The Life of Pablo after an exhausting album rollout, it was exclusively available on Jay-Z's beleaguered streaming service TIDAL. Although I could have scoured the Internet for a pirated version of the album, I decided to start my TIDAL 30-day free trial solely for convenience's sake. When the free trial expired, I said goodbye to TIDAL but not for long: I resubscribed when Beyoncé dropped Lemonade on TIDAL to support her husband, who ironically enough, is torn to ribbons on her most recent project. After that, I thought I may as well keep my subscription to avoid any future instances of scrambling to listen to new and important releases.
Apple Music
Then Drake released Views as an Apple Music exclusive, and I grabbed at the shiny object. I'm still listening to Apple Music for free on my three-month trial, but the decision to officially sign up looms. What if another artist releases an Apple Music exclusive that I have to listen to right away?
Pandora
This predicament reminded me that a few months prior I had also upgraded my Pandora account to get rid of those pesky ads and that I had been paying for it every month since. That makes four music streaming services that have unwittingly crept into my life, all for the sake of listening to music the way I want to.
I've promised myself that I won't sign up for an additional streaming service should another one arise. Except if I have to. Then I definitely will.