Nate Silver Just Gave Hillary Clinton Very Good Odds
The blog has a pretty reliable, but not foolproof, prediction record.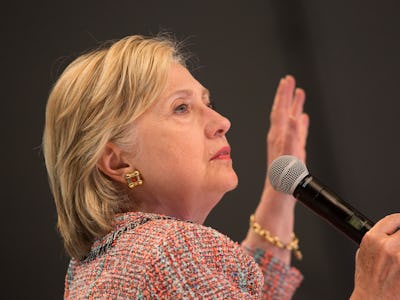 Getty Images / David McNew
Data-based election predictor FiveThirtyEight gave Hillary Clinton an 80 percent chance to win the presidency Wednesday, the first day of the live general election forecast for the much-heralded prediction publication. It's looking especially blue at this early stage.
Clinton's 80 percent is only part of the equation, though. FiveThirtyEight is using three models to forecast polls:
One that takes polls, the economy, and historical data into account
One that uses only the polls
One that predicts who would win the election today
The numbers for Clinton winning are, respectively, 73.6 percent, 80.6 percent, and 86 percent.
Using data from polls, the economy, and history (which FiveThirtyEight calls the "polls-plus forecast") is the most inclusive, but 2016 is a whole different political world than in the past. If you're reading this story, then you surely already know why (ahem, Trump, a.k.a. Drumpf).
The polls-plus forecast predicts Clinton will win 317 of the electoral votes and around 48 percent of the popular vote. If you're wondering why that is less than half, it's because independent libertarian Gary Johnson is predicted to win nearly 7 percent of the popular vote (but zero electoral votes).
Whether you think this data is reassuring or frightening, don't forget the flip side: The Donald is the reigning reality TV king, owner of huge buildings, and star of Surgeon Simulator, and he has a 26.4 percent chance of becoming the president of the free world.
FiveThirtyEight — which is named after the total number of the electoral college votes — came to fame during the 2008 election after owner Nate Silver correctly predicted the winners in 49 of 50 states, as well as the winner of every U.S. Senate race. Since then, Silver writes the polls only prediction model has been right 91 percent of the time, and the "polls-plus" model has been right 89 percent of the time.
There's one big caveat: both polls didn't see Trump winning the Republican primary for a long, long time. Silver didn't even admit that Trump might have a chance of winning until January 21.
Today is just day one for the live blog. It will be continuously updated until Election Day on November 8, and it is essentially the same method that correctly predicted the 2008 and 2012 presidential elections.
If 2016 gets added to that list, the United States will finally have its first pro-aliens president.