Tesla's New Gigafactory: 10 Mind-Boggling Stats in the Construction Permits
Here's all the wild stuff Elon Musk and co. have been up to in the desert.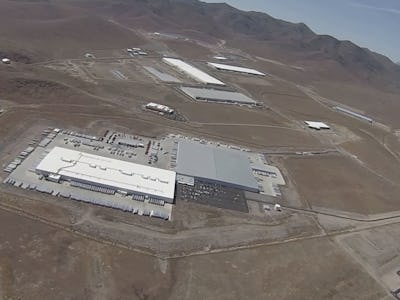 YouTube/ Electrek.co
Until now, most of our information on Elon Musk's next big endeavor — the massive Tesla Gigafactory — came from drone footage of the site. When completed, the Gigafactory in the Nevada desert will have the largest footprint of any building in the world and produce hundreds of thousands of the lithium-ion batteries needed for its vehicles, including the new Model 3s.
BuildZoom, a construction contractor marketplace, has done the legwork on Tesla's building permits for the Gigafactory, and the results are absolutely ridiculous. BuildZoom combed through all 84 of the individual permits issued to Tesla to build stuff (like giant refrigerator rooms and earthquake-proof foundations), and put out a report on the factory, which has some pretty stunning information.
Here are 10 of the most interesting, outlandish, or just oversized facts about the new center.
10. The factory isn't anywhere near completion.
The grand opening for the Gigafactory is less than a month away, but according to the contracts, there's still a lot of work to do. BuildZoom reports that 18 of the 84 construction contracts (which are specific orders/permissions to build a thing) will not be completed by the July 29 Grand Opening. Jack Cookson, an analyst at BuildingZoom, says that even with the grand opening approaching, "This [report] is just a snapshot of what's happened so far." Cookson said he expects Tesla to file for more construction permits, so the 18 unfinished could be a low-ball estimate for how much work is still to be done.
Here's the latest drone footage of the factory:
9. The whole thing has already cost $322.6 million.
The total cost of the contracts awarded is skyrocketing toward half a billion dollars (though it has a ways to go to meet that mark). The factory itself is 5.8 million square-feet, which, if my math is correct, means building the damn thing is costing Tesla $55.6 per square foot. And that's just the estimated cost of the contracts so far.
8. Speaking of contracts, Tesla isn't using an independent contractor. It's building the whole thing themselves.
Usually, when a company has a large construction project, it calls in an independent contractor to manage all of the details of construction (because that's literally what a contractor's job is). Instead, Tesla applied for a Nevada contractor's license themselves, filed its own building permits, and is basically going it alone. Like other tech mega-billionaires, Musk likes to keep personal control over a lot of his endeavors, so this is a major swerve for a normal company, but totally on brand for Tesla. Of course, it's hiring subcontractors, but all of the work flows straight through the company itself.
7. The factory has four, count 'em, four earthquake-proof foundations.
This one is simple. Most buildings: one foundation. Tesla Gigafactory: FOUR foundations. Get your puny non-earthquake-proof foundations outta here. To be fair, an earthquake could be a major disaster for an incredibly high-tech facility, so Musk and co. decided not to mess around with any of Mother Nature's whims.
6. Tesla built a $1.25 million gigantic walk-in refrigerator
It's not for what you think, though. The whole thing is called a "chiller yard," and it's made for testing batteries, which are more efficient at lower temperatures. They had to file three separate contracts to do it, adding up to $1.25 million.
5. Tesla donated an entire fire engine to the Storey County, Nevada fire department.
Overall, they've spent $4.7 million on fire safety measures, including installing a full "fire command center" on the property. I guess when you're making explosive batteries you really don't want shit to catch on fire.
4. Its water tank holds more water than two Olympic swimming pools
This is a lot of water. 1.5 million gallons of water, to be exact. An Olympic swimming pool, which is 50 meters long, 25 meters wide, and at least two meters deep, holds 660,000 gallons. While we can't break down exactly what Tesla is going to do with all that liquid, you need water for pretty much everything, and in the largest building in the world that amount makes sense.
3. The guard shack cost $50,000 alone
Compared to most of the other contracts, fifty large is chump change, but still — don't fuck with Tesla. Its guard shack is probably solar-powered and has some kind of crazy electric laser defense system (note: this is pure speculation, it is most likely just a normal guard shack).
2. The battery cell manufacturing plant should be done by the Grand Opening
The Gigafactory's biggest job is to pump out lithium ion batteries (which go in Tesla cars, but also in other things). Musk has said the big Gig' will produce more lithium ion batteries in a single year than were produced in the entire world in 2013. So if that portion is good to go by opening, it's good news.
1. The factory is meant to be 100 percent sustainable
Musk's entire brand is built around solar power and sustainable energy, so this is kind of a no-brainer, but still impressive for a factory this size. Cookson said he expects that some of the next contracts to roll in will be for solar panels and other parts of the factory's sustainable infrastructure.