4k Drone Video Reveals Tesla's Huge New Clean Energy Factory
Someone with a drone managed to buzz a plant built to change the world.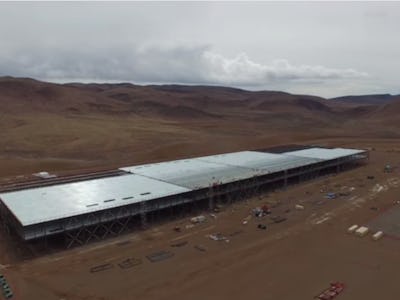 www.YouTube.com
Putting anything in 4k immediately makes it infinitely watchable. That rule applies doubly when said thing is actually important.
High-def YouTube video from a user just surfaced of Tesla's new Gigafactory, a ginormous 1,000-acre manufacturing plant outside Reno, Nevada that will cost the company nearly $5 billion to build. The user managed to get close enough to let his 4k-enabled drone wander around the area for at least a few minutes.
I know what you're thinking: Why do I care about some huge factory in the middle of nowhere? Look, it's not the most exciting thing in the world, but remember the Gigafactory will be the keystone in CEO Elon Musk's attempt at Tesla weaning the planet off of fossil fuels and shifting to clean energy.
Let me remind you that this is world-changing stuff. It'll also pump around 6,000 new jobs into the local Nevada economy, so if you're a resident in the area get your resumes ready.
And if you think this is big, think bigger. As Elon Musk points out to Transport Evolved, the structure seen in the video is only 1/4th the size of what the finished structure will be.
What Musk intends to build is the biggest lithium-ion producing facility on the planet. For some scale, take a look at the normally massive yellow crane seen in the frame at the 0:55 mark. This is the next big thing.