Mark Zuckerberg Tells Shareholders He Will Run Facebook "For a Very Long Time"
And that's not going to change unless he wants it to.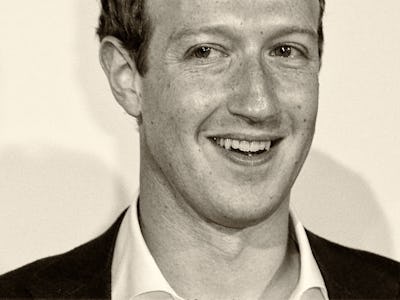 Getty Images / Adam Berry
Mark Zuckerberg isn't going anywhere. At the company's annual shareholder meeting today, Facebook's founder and CEO said he expects to stay involved in the company's operations for the foreseeable future.
During the question and answer section of the meeting, a shareholder asked if Zuckerberg plans to actively run Facebook even though he has an entire charity to help run and 99 percent of his wealth to give away as well.
"Yes," Zuckerberg affirmed. "I plan on being involved in running Facebook for a very long time." The shareholders then erupted in spontaneous applause.
Zuckerberg currently owns a 60 percent controlling share of the company. That means whatever he votes for, he gets — even if every other shareholder wants the opposite. Today, a new Class C stock was voted for (by Zuckerberg, of course) that essentially keeps Zuckerberg's position from changing until he is ready for it to change.
People who own Class C stock won't have voting rights, so no matter how much more stock the company sells, Zuckerberg will always keep control. Zuckerberg wrote to shareholders in April that Facebook has "always been a founder-led company," and that the structure has allowed the company to make "decisions that don't always pay off right away, but that we believe help us serve our community and our shareholders." Essentially, he likes calling the shots personally, and with Facebook's net worth at $52.1 billion, it's tough to argue with him.
Still, a shareholder proposition was put forth to keep the Class C shares from being issued, thus allowing other shareholders to help guide where the company goes in the future, but it was shot down during the vote. Unless Zuckerberg gives up power himself, he's not likely to lose it because of his majority position.
Zuckerberg doesn't want to fix something that isn't broken, and he made it clear today that he is going to keep control for a very long time so he can take the company wherever he sees fit.
"When I look out at the future, I see more bold moves ahead of us than behind us," Zuckerberg wrote to shareholders in April. "We're focused not on what Facebook is today, but on what it can be, and what it needs to be for our community. That means investing in areas like spreading connectivity, building artificial intelligence, and developing virtual and augmented reality."