It's Confirmed, Mark Zuckerberg Says He Is "Not a Lizard" 
He made the admission during his first Facebook Live Q&A.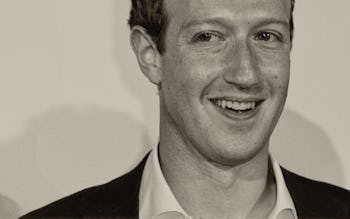 Getty Images / Adam Berry
Mark Zuckerberg has confirmed he is in fact not a lizard.
During his first-ever Facebook Live chat on Tuesday, it was one of the very first questions he answered during the video, which has since received more than 8.2 million views.
The admission came after Zuckerberg took a chance on one of the "silly" questions posted in the live comments. Zuckerberg read aloud, "Mark, are the allegations true that you are secretly a lizard?"
He responded, "I'm going to have to go with no on that. I am not a lizard. But keep the high quality comments coming in, this is surely on track to be a great live Q&A if we continue getting stuff at that level of quality."
It was only the second question he fielded during the live Q&A, which included a discussion on the technologies beyond virtual reality and augmented reality that will allow humans to send thoughts, emotions, and memories to one another, as well as a surprise appearance from Jerry Seinfeld.
The moment solidified all that is potentially great about live video and all that can go wrong simultaneously. On one hand, Zuckerberg has found a way to really integrate social video into Facebook and is able to deliver it to a much larger audience than Twitter's Periscope. On the other hand, there's still something so goofy about the Facebook CEO's lizard-like presence on your News Feed that it sort of demands to be made fun of by the internet.
The Washington Post notes that many prominent figures have been asked in the past if they are lizard people hiding under human skin. Louis C.K. once called out Donald Rumsfeld on such an accusation and New Zealand's prime minister, John Key, addressed the issue by telling New Zealand's NewsHub he saw a doctor about it who could confirm his non-reptilian skin.
So until Zuckerberg can provide a doctor's note, we'll just have to take him on his word.