Mark Zuckerberg Calls for "Global Community" in His First Facebook Live Chat
And technology (AKA Facebook) is the tool to make it happen.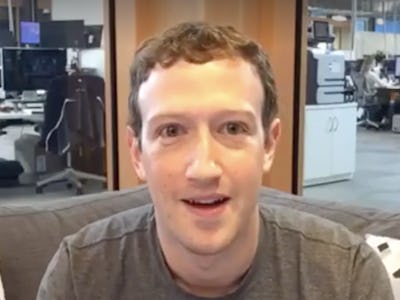 Facebook
Mark Zuckerberg believes that we are at a shifting point in human civilization and everyone needs to come together in a global community. The necessary tool? Technology.
"We have the next set of tools that we need," Zuckerberg said in his first Facebook Live Q&A today. "Things like the internet that can be this global infrastructure, but we now need to come together as a global community."
Facebook debuted livestreaming for its mobile app in January to select users and it hit everybody soon after. There's even a Facebook Live map (for desktop users only) that showed creative uses for Facebook Live in the early days, although it was missing at least four features. And today, Zuckberg held his first Facebook Live chat with the people of Facebook (following his live chat with astronauts on the ISS).
"What I think we need to be doing as a tech industry is build this technology so people can come together and level up humanity," Zuckerberg continued.
Technology moved people from hunter-gatherer to living in villages to living in cities, the 32-year-old founder of Facebook said adding that the 21st century is the era of the global community. (Zuckerberg can go ahead and assume he is now mentioned in every New World Order conspiracy theory.)
The topic of using technology to better humanity came from one of the questions posited in the comments by a Facebook user — he said that he would address the most popular questions (voted on by likes), and a few questions asked how bringing the internet to everyone helps solve bigger problems in the world.
Education, healthcare, and a more level playing field in life can all come with equal access to the internet, Zuckerberg explained.
Zuckerberg started off his Live Q&A by addressing the shooting in Orlando and the recent act of terrorism in France. But not everything he talked about was as heavy as addressing tragedy and making a global community.
Other big takeaways from Zuckerberg's first Facebook Live Q&A:
In response to the question asking if he is secretly a lizard: "No I am not a lizard, but keep the high quality questions coming in."
On if Facebook will ever have Pinterest-like folders for things like recipes: Facebook already has groups for that, and his favorite group is one where he shares information about Hungarian sheep dogs.
On new artificial intelligence Facebook is working on: Facebook will build automatic subtitles into videos (which Google already did for YouTube back in 2010)
On what's after virtual reality: Sharing pure thoughts and memories from person to person. Zuckerberg claims Facebook isn't working on it, but don't be surprised if you see it in the next 50 years or so.
On what's next for Facebook Live: Live is still in its early stages, but down the line Zuckerberg thinks it would be cool to have someone pop into a video to comment rather than having to type it out.
On what he would do if he were starting Facebook today: "If I had to start over today, I'd start it as a mobile app."