Hodor's Death Might Clear The Path For Coldhands on 'Game of Thrones' 
Hodor's death might allow an awesome book character to make his entrance: Coldhands.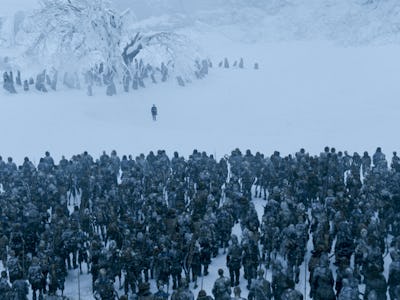 HBO 
Hodor's death was the saddest to happen on Game of Thrones in a while, mostly because we didn't expect a seemingly one-note character to move us. But even in a world that frequently borders on nihilistic, every death has a purpose. Oberyn's gave rise to the Dorne subplot (unfortunately); Tywin's sent King's Landing into its current unstable state; Stannis's allowed Davos to devote his attention to Jon Snow. And the impact of Hodor's demise might just prove to be the most intriguing of all. Aside from the implications it raises about Bran Stark's powers, it might clear the path for one of the most enigmatic book characters to make his entrance on the show: Coldhands.
Remember how awesome and intriguing Aragorn was, when he first made his entrance in the first Lord of The Rings film? He wore a cloak, had a shifty-eyed glance, patented the original Artfully Disheveled Warrior Hair (sorry, Jon Snow), helped Frodo and Sam, and fought like a boss. But until we knew his name wasn't actually "Strider," he kept us guessing about his true intentions.
Picture a more terrifying version of that with a White Walker spin, and you've got Coldhands in the Song of Ice and Fire books. He has many Wight-like qualities: his hands are ice-cold (bet you never would have guessed that!) he doesn't breathe or show his face, but he wears Night's Watch colors, rides a giant fucking elk, and his eyes are not white-walker blue but black.
In the books, he travels with Bran Stark for a time and helps Sam beyond The Wall, but because of the aforementioned terrifying hands and breath situation, we're never sure if he's a benevolent friend or if he has his own nefarious agenda. He's clearly dead, but he's also not a White Walker. Fan theories suggest he could be Bran's long-lost uncle Benjen Stark — who mysteriously disappeared in his Night's Watch attire — though his identity has never been confirmed.
If he were to enter the show, his role in Sam's plotline would obviously be cut. But without Hodor, Bran and Meera could really use a strong ally as they flee a terrifying army of ice-zombies, and Coldhands could easily fill that role in the story. Plus, now that the Three-eyed Raven is gone, Bran still needs to discover how the rest of that Tower of Joy scene unfolded. If Coldhands is really an undead Benjen Stark, he could be the one to break the news.
Hodor's end was more gutting than it had any right to be — but if it ushers in an awesome new character, perhaps he didn't die in vain.