After 'Agent Carter' Flop, Marvel TV Needs to Reboot and Copy DC's Arrowverse
DC is dominating TV while Marvel has suffered a few losses. What can the House of Ideas learn from its Distinguished Competition?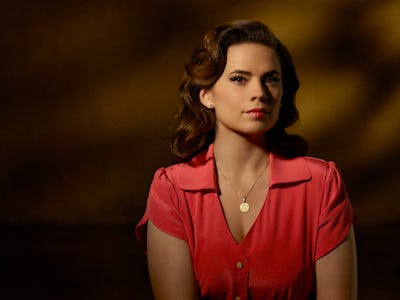 ABC
While Marvel Studios dominates the box office with Captain America: Civil War, Marvel's TV division is struggling. On Thursday, the period spy drama Agent Carter was canceled after two short seasons, and the pilot for the Agents of S.H.I.E.L.D. spin-off Most Wanted, which was to star Adrianne Palicki and Nick Blood, was passed on altogether.
Meanwhile, at competitor network the CW, all of DC Comics's shows were renewed, and execs also picked up Supergirl, which is getting a second life after airing initially on sister network, CBS.
Certainly, Marvel is not in any real danger, thanks to its stable of Netflix shows: Luke Cage will premiere in September, Iron Fist is filming now, the critically-acclaimed Jessica Jones has been renewed for Season 2, and Punisher was recently added to the slate.
But the losses were big ones. Agent Carter, a period spy thriller that starred Hayley Atwell, won over critics and delighted fans who have rightfully demanded diverse stories while Most Wanted was shaping up to be a promising diversion from Marvel's "superhero" image. And maybe that's the problem.
Though not explicit, Marvel categorizes its characters by medium: A-listers like Iron Man stay on the big screen, while lesser known, street-focused vigilantes like Daredevil take over Netflix. But on broadcast, it's all non-powered humans, save for a scant few Inhumans (Marvel's substitutes for X-Men) in Agents of S.H.I.E.L.D. But no one on broadcast are "superheroes," which is a disappointment to many who tune in to the series based on the Marvel brand.
At rival DC and Warner Bros., there's little discrimination. While some characters like Batman and Wonder Woman are considered hands off, DC TV have brought heavy hitters like Green Arrow, The Flash (getting his own movie in 2018), Atom, Martian Manhunter, Supergirl, Constantine, Superman (hilariously obscured like Wilson in Home Improvement), Ra's Al Ghul, and even the Suicide Squad. Gotham on Fox follows a young Bruce Wayne on his journey to becoming the Dark Knight, and while the show is unlikely to turn into a full-fledged Batman series it's still Bruce mourning his dead parents. Instead of trying to connect their movies and TV shows, they keep them separate, so there will be two people soon playing The Flash.
DC doesn't shy from big characters on the small screen while Marvel curiously compartmentalizes. Until this week's Agents of S.H.I.E.L.D., "Emancipation," the series was increasingly feeling like it was on an island despite its place in the so-called Cinematic Universe. The only appearances of Samuel L. Jackson's Nick Fury came in the Season 1 pilot and the finale, while Jaimie Alexander's Sif from Thor guest starred for just two episodes. And Sif ain't exactly a household name. That's it for "superheroes."
The division is in some ways mandated by corporate turf wars, including the well-known tension between Marvel Studios and Marvel Television. It'd be one thing if keeping things separate benefitted the TV division, but that's simply not the case. DC proves how a TV universe doesn't have to feel claustrophobic.
So there are two options here for fixing Marvel TV: Find a way to shoehorn a lot of appearances from the big screen heroes into the TV series, or separate the two entirely, and create a television version of Spider-Man, Captain America, and the rest of their pals.
For now, it looks like the company is staying the course; there are other Marvel projects in development for broadcast, such as the workplace sitcom Damage Control, which features a clean-up crew that fixes damaged buildings and infrastructures after superhero battles. But if another show goes, Marvel TV should call in the Avengers to save the day.