How The Flash in 'Dawn of Justice' is Different Than 'The Flash' TV Show
Ezra Miller's cameo in 'Dawn of Justice' shows a different kind of Flash than on the CW.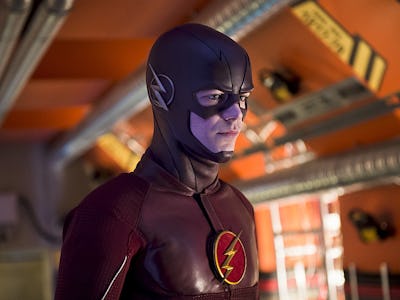 The CW
Which Flash is which?
Even harsh reviews can't stop Batman v Superman: Dawn of Justice from accomplishing its mission. The new DC superhero movie from Zack Snyder just toppled Avengers: Age of Ultron for a record Thursday night opening, and with the Easter weekend ahead the future of the DC universe looks bright. Desaturated, devoid of color, and populated by emotionally devastated sociopaths, but bright.
Which means Warner Bros. is on track for The Flash starring Ezra Miller and directed by Abraham Lincoln: Vampire Hunter author Seth Grahame-Smith for March 18, 2018. But there is already a successful show on The CW starring the super fast superhero, also titled The Flash starring Grant Gustin. Though Miller's cameos (he has two!) in Dawn of Justice were brief, there's enough to assume the vivid contrast between the two Barry Allens.
There's a vague but generally accepted shape to Barry Allen, the second Flash of DC Comics. The first Flash, Jay Garrick, was a Golden Age symbol and is about as old school and straight-laced as you can get. Barry is more laid-back, a guy who is either well-liked or pushed around (depending who's writing) at his job at Central City PD. He's a hapless nerd who scored the woman of his dreams, Iris, which puts him in the same league as Peter Parker, another dork who wears a red unitard — though Barry is usually portrayed as blonde with a stronger chin.
Neither Gustin or Miller are blonde jocks who work in a lab, but Gustin's Barry Allen is emblematic of the modern "cute nerd" archetype. He's handsome but non-threatening, enviously in shape but he isn't a Crossfitter. He's generally over his head, but always steps up to face a challenge.
Series producer Greg Berlanti even admits Gustin didn't look anything like Barry Allen from comics, but his audition was too, ahem, electric for them to pass up.
Miller's Barry Allen he is seen twice in Dawn of Justice. The first appearance is in Bruce's "nightmare" where Barry, as the Flash, yells to Bruce about Lois Lane and that "he was right about him." He's wearing pale red armor resembling the Flash's costume in the Injustice: Gods Among Us video game from 2013.
The second cameo happens Bruce sends Lex Luthor's metahuman files to Wonder Woman, who finds security footage of a casually dressed Barry Allen stopping a robbery. He just stands there, really, but he's got an IDGAF demeanor similar to Jesse Eisenberg's Zuckerberg in The Social Network, complete with his own slacker hoodie. There's so little to go on, but could a lazy millennial be the kind of Barry Allen we see in Justice League and The Flash?
Justice League — Part 1 begins filming in April with Ezra Miller alongside Henry Cavill, Ben Affleck, Gal Gadot, Ray Fisher, and Jason Mamoa with Zack Snyder directing. The Flash airs Tuesdays on the CW, with a crossover with CBS' Supergirl on March 28.