Why 'Supergirl' Moving to the CW Is the Best Thing to Happen to the Show 
Supergirl makes her way from CBS to the younger-skewing CW.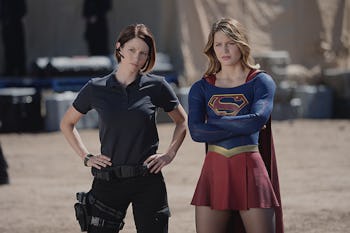 CBS
After a critically acclaimed first season with only decent ratings, the DC superhero TV show Supergirl starring Melissa Benoist is flying up, up, and away from broadcast network CBS to sister network, the CW. And it's a move that may be a real benefit to the superhero series.
CBS, who hoped Supergirl would de-age its average viewer demo of 54, became less willing to pay the hefty $3 million per episode fee when Supergirl failed to bring in the new audience. But a strong demand for a female superhero show with a built-in, expansive mythology means that it will fit right in on the CW, which skews younger and already sports three DC superhero shows, including The Flash and Arrow. Later in its first season, Supergirl crossed over with the CW's The Flash in an episode that yielded stellar ratings and rave reviews.
While it will likely have a smaller budget, Supergirl can only help reinforce the CW's brand on a network tailor-made for its intended, young audience — and be a hit with that audience, the show's aim in the first place. Production is moving from Los Angeles to Vancouver where Arrow and The Flash are filmed, which could also mean more crossover specials.
Supergirl comes from DC TV producers Greg Berlanti and Andrew Kreisberg, who also oversee Arrow, The Flash, and Legends of Tomorrow, along with Ali Adler and Sarah Schechter. It will return for a second season this fall.