The CW Renews Every Show, Including 'The Flash' and 'Legends of Tomorrow'
All the shows you like, from 'iZombie' to 'Reign' will be back next year.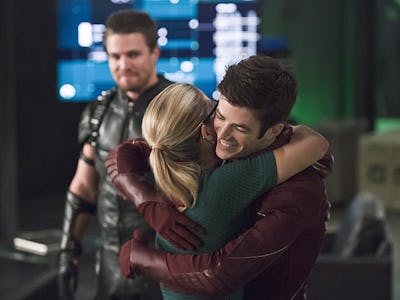 The CW
Fans of the CW, which airs The Flash, iZombie, The 100, and Crazy Ex-Girlfriend, have a very good reason to celebrate: the network has renewed all of its shows currently on air.
In a press release, the CW announced a rare renewal for all its active serial programs for the 2016-2017 season. This includes long-running Supernatural, returning for a 12th season — airing its 250th episode — and the freshman series Legends of Tomorrow, DC's sci-fi spin-off from Arrow and The Flash, despite rumors the show exceeded its budget. Well, it's renewed.
"The CW has become home to some of the most critically-acclaimed shows on broadcast television," said CW president Mark Pedowitz in the press release. "As we continue to further our strategy of more year-round original programming, picking up these 11 series for the 2016-2017 season puts us in a great position of having proven, high-quality shows to launch in the fall as well as midseason and summer of 2017."
While the ratings aren't spectacular for every series, CW's shows either generate acclaim from critics or have super fans who reblog GIFs on Tumblr. None of that should be a surprise: Superheroes (like The Flash), YA fantasies (like The Originals), and quirky comedies (like Jane the Virgin) have niche but dedicated and diverse audiences other major networks don't often court. What used to get the youth-skewing networked mocked has becomes its winning formula.
The success of the CW has also allowed it to venture beyond its perceived image. I'm told The 100 is a pretty hardcore apocalyptic drama and Containment, airing April 19, is shaping up to be the network's darkest new series yet, atypical of what a CW series is "supposed" to be.
The network is also devloping many new shows, among them Riverdale, a millennial soap based on the Archie comic books.
Here are all the renewals from the CW for the 2016-2017 TV season:
Jane the Virgin (Season 3), Crazy Ex-Girlfriend (Season 2), The Flash (Season 3), iZombie (Season 3), Arrow (Season 5), Supernatural (Season 12), DC's Legends of Tomorrow (Season 2), The 100 (Season 4), The Vampire Diaries (Season 8), The Originals (Season 4), and Reign (Season 4). Air dates are TBD.