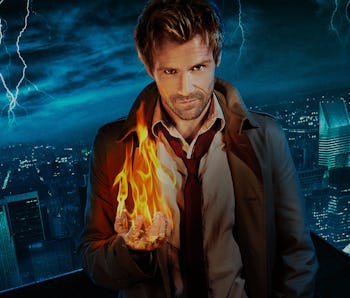 Entertainment
'Legends of Tomorrow' Can Earn Season 2 if Low-Budget Heroes Join the Team
DC's 'Legends of Tomorrow' is rumored to be in jeopardy. Smart choices regarding who should star can solve their woes.
NBC, DC Comics
The future of DC's Legends of Tomorrow, the midseason crossover starring secondary Arrow and The Flash players isn't looking good. Over Thanksgiving weekend, Bleeding Cool reported on some exciting rumors — allegedly, Season 2 would have a new roster allowing the series to spotlight different DC characters and Constantine would be among the new recruits — before ruining the party with financial reality. A source close to Warner Bros. told Bleeding Cool the show had become too expensive and may be replaced by another, maybe cheaper product next year.
There's an easy solution to keep the anticipated series from an early death hiding in plain sight: Keep it simple.
I don't know what DC's financial books looks like, but going by layman observation it's clear they were operating in red ink just by who they selected. Almost everyone in the show requires enough special effects to make George Lucas weep: The Atom wears an Iron Man suit and changes size like Ant-Man; Firestorm needs two actors, one of them engulfed in flames to fly; Hawkman and Hawkgirl sport big-ass CGI wings who also fly; and Heat Wave and Captain Cold shoot fire and ice blasts from high-tech guns. Only White Canary doesn't appear to require much post-production. She's a ninja. I had ninjas in my student films.
If the rumors involving Constantine are true, DC is on the right track selecting characters that require less dough to execute. Constantine was an expensive show for NBC, but the character himself doesn't need much in the budget to stand doling exposition. If DC wants to stay frugal like a single dad on Christmas, going with these superheroes, some already in the Arrowverse, can help.
Huntress
Jessica De Gouw played Helena Bertinelli in earlier seasons of Arrow before her character was arrested and imprisoned. Which means she's still alive, and waiting. Basically Green Arrow with a crossbow, there's not a lot that is conceivably required to have her lavender archer on screen. Like White Canary, she's basically a ninja. Give her the costume and she's good.
De Gouw is busy starring in WGN's new series Underground, but the actress slyly said at New York Comic-Con that her return is left up to the producers.
Katana
After putting a sword through her husband towards the end of Arrow last season, Tatsu Yamashiro, a.k.a. Katana (played by Rila Fukushima) retreated to a life of solitude.
The character will be in 2016's Suicide Squad with another actress (Karen Fukuhara) wearing the mask. Katana may have a wider recognition by the time Legends of Tomorrow season two hits, so why not spotlight her in the series?
Diggle's Black Ranger Thing
There's no official codename for John Diggle's new masked persona. It was presumed he would don the Guardian mantle, but producer Marc Guggenheim said his identity will be "unique." Whatever that unique name is it has yet to be formally coined, so as a die-hard Power Rangers fan I've been calling him Black Ranger. (It's the helmet.)
"Black Ranger" is David Ramsey in leather and cargo, and Ramsey has more abs than Magic Mike. No CGI to look super is necessary.
Deathstroke
Oliver would likely prefer to gouge his own eyes before teaming with Slade Wilson, but Deathstroke hasn't been all bad in DC's history. Legends of Tomorrow presents a prime opportunity, like Captain Cold, to feature a less menacing side of the master assassin. And like Diggle, all actor Manu Bennett needs is the mask and weapons and he's ace.
Vixen
This past summer on The CW Seed, the DC superhero Vixen was introduced through an animated web series. Orphaned in Africa, Mari McCabe is gifted with the ability to mimic the strength and agility of wild animals. Megalyn Echikunwoke voiced Mari, but the actress bears a decent enough resemblance that it would be a horribly missed opportunity to never have Vixen appear on TV.
Booster Gold
While Booster Gold has flight and other CGI superpowers, it's possible to tone it down. Remember Smallville?
A time-traveler with a cocky all-star attitude, Booster Gold almost starred in his own show on Syfy by Arrow producers Greg Berlanti and Andrew Kreisberg. Eventually Legends of Tomorrow became a thing, and early rumors indicated Booster Gold would be featured. He's not, but in an August interview showrunner Phil Klemmer said not to rule him out completely. "You might have to wait a good long while at least on our show," he told The Hollywood Reporter.
Karate Kid (Not Ralph Macchio)
The master of every martial art in the 31st century, Karate Kid is an underused, C-string hero in DC myth. An Abercrombie & Fitch model with a few weeks in training camp can bring the character to life, who has only appeared a scarce few times outside comics.
Constantine
Yeah, that guy. The team I've assembled are mostly fighters, but hardly any of them could involve fantasy or high-concept genre elements. Rip Hunter will fulfill that role, and while he could stay for Season 2, Constantine would be an easy (and charming) substitute.
Imagine Constantine, a messy British street magician, trying to order around a whole team that could break him in half. Gold.
The character was the center of NBC's short-lived Constantine and guest-starred in one of the most-watched episodes of Arrow this season. A petition to revive Constantine (among many) has collected almost 75,000 signatures.
Mister Terrific
Echo Kellum currently plays Michael Holt, the genius Olympic athlete destined to become the high-tech superhero Mister Terrific. As Arrow approaches its midseason, fans are wondering when Holt's introduction will finally pay off.
DC's Legends of Tomorrow airs January 21, 2016 on The CW.