'Arrow' Just Made a Case for DC's TV Universe Needing Its Own 'Civil War'
After the nuclear destruction in the latest episode of 'Arrow,' the DC TV universe should thematically unite its shows into a cohesive whole.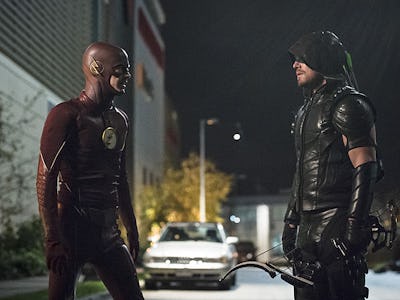 The CW
Marvel's Captain America: Civil War is the blockbuster culmination of Marvel Studios' movies and TV shows from all the way back to 2008's Iron Man. Weaving its way through multiple platforms and networks, the Marvel Cinematic Universe has been telling one story and the tension resulting in one bombastic extravaganza of superheroes fighting and the unbelievable balance of disparate narrative threads.
Warner Bros. has been looking to find the same sort of success with its DC movie properties, and has tried to launch its own "multiverse" through movies directed by Zack Snyder. DC does not link its TV shows and movies, which at this point may be a good thing.
DC has a sprawling and generally excellent television universe — dubbed "Arrowverse" — that's composed of the CW's Arrow, The Flash, Legends of Tomorrow, the animated series Vixen, and CBS's Supergirl (and once upon a time, Constantine on NBC). But it could still learn a major lesson from Marvel. The DC Universe needs a large-spanning status quo change, and they've stumbled upon a prime opportunity to make it happen.
This week's episode of Arrow, "Monument Point", features a horrific failure by the Green Arrow, his allies, and A.R.G.U.S. to save some 10,000 innocent civilians from the devastation of a nuclear bomb. 10,000 lives. 10,000 failures. 10,000 reasons the people in the Arrowverse should speak up.
Similarities to Civil War are obvious; in the MCU, another superhero catastrophe (though not as big or damaging as a nuclear missile) causes panic and hostility towards the super-powered weirdos. But the DC shows don't need to start imposing monologues about crises of conscience or submit the superheroes to federal regulations. They just need to react.
After the Avengers' battle against Loki and the Chitauri in The Avengers, midtown Manhattan is left in ruins. The nearby neighborhood Hell's Kitchen falls prey to crime and corruption, compelling hometown boy Matt Murdock to put on a mask. "Heroes and their consequences are why we have our current opportunities," says a scheming antagonist in Daredevil. "Every time one of these guys punches someone through a building our margins go up three percent."
In 2014's Captain America: The Winter Soldier, the organization S.H.I.E.L.D. turns out to be a puppet for HYDRA, the supernatural Nazi army presumed gone after the previous Captain America movie, 2011's The First Avenger. S.H.I.E.L.D. is publicly disavowed, forcing loyal, true agents in the ABC series Agents of S.H.I.E.L.D. to go into hiding and operate with less authority, on smaller budgets.
In achieving a "cinematic universe," the status quo should be shaken, stirred, and thrown up in the air, and all interweaving narratives and characters who inhabit should be forced to react in drastic ways. That is the true magic of universes: Something BIG happens in Show A, so Shows B, C, and D must adapt.
Massive events prompt (good) questions when the credits roll, and they go beyond simply "What's next?" After the explosion in Arrow, fans should be asking: What will Green Arrow or The Flash do now? What will the emotional and psychological toll cost? Felicity (Emily Bett Rickards) was the one who diverted the bomb: What's her emotional state now? What will her guilt make her do next?
Most importantly, what will the existence of superheroes now mean? What will everyday citizens demand in their current fragile state? Never mind similarities to Marvel; the worst thing DC TV can do right now is not address any of these questions.
DC has a rare opportunity that Marvel doesn't: They occupy the week. Mondays belong to Supergirl, Tuesdays for The Flash, Arrow has Wednesdays, and Legends of Tomorrow dominate Thursdays. That's four days in the week for one massive story, and while it sounds exhausting, hardcore fans such as yours truly have been tuning in all season long. While the Arrowverse has not been as character-driven or planned out with long-term goals as the MCU has been, there's no time like the present for it to start now, while the dust is still settling.