Apple Awarded Patent for Auto-Censoring Swear Words From Music
The technology uses metadata to censor explicit music and audio books.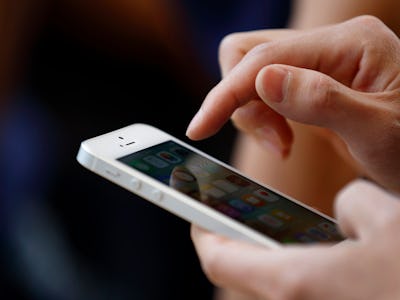 Getty Images
A year and a half after the company applied, Apple finally has a U.S. patent for a feature that can automatically censor explicit songs and audio books. The patent uses metadata to pinpoint objectionable audio playback and will allow the user to switch back and forth between the clean and explicit versions. The patent also states that users will be able to replace censored lyrics alternately with clean lyrics, a "beep, or simply radio silence" (meaning, just background music). iPhone users are still reeling from the news about Apple nixing the headphone jack down the road, but this nixing-swear-words-on-the-fly feature, if ever implemented, will at least have an on/off switch.
The patent itself goes by the name of "Management, Replacement and Removal of Explicit Lyrics during Audio Playback." It's hard to say exactly where Apple will go from here in terms of implementing the patent, but it's common knowledge that the company has a history of censorship efforts.
Apple founder Steve Jobs was famously pro-censorship when it came to things like porn, telling users they could go get an Android if that was their thing. The company has also pulled all apps featuring the Confederate flag and banned online books that feature nudity and other erotica. Recently, eurogamer.net reported that the company banned the video game The Binding of Isaac: Rebirth.
Apple Music is fighting off more competitors than ever, and an auto-censor function might be a way to appeal to the "family friendly" demographic. Apple's Beats 1 radio station already censors explicit content, so this could be a logical next step for the company.