The Top Selling Rap Albums of 2016 Are Not What You Think They Are
Kendrick Lamar, Kanye West, Macklemore, you say? Think again. Don't count the South out.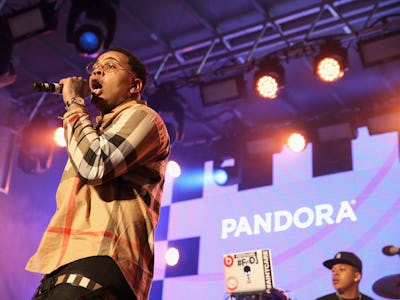 Rachel Murray/Getty Images for Pandora
One can imagine the kneejerk answer many music fans would probably give right now, if asked what the best-selling rap releases of 2016 were. Presumably they would be aligned with those which have gotten the most coverage, and been deemed culturally significant: Kendrick Lamar, Macklemore, and Kanye. If you are familiar at all with the statistics of the streaming wars, you realize that Kanye is not even in the running, at least yet (A draft of The Life of Pablo did hit Spotify, Apple Music, Rhapsody and the new Soundcloud Go today, which will boost sales in the long run). Perhaps, even, you would even name street rap's crown prince of the moment, Future, whose recent releases have all charted highly on the Billboard 200.
This reasonable list, however, does not actually account for the number one selling rap release of the year thus far. That would be January's Islah, by Baton Rouge rapper Kevin Gates, an enigmatic, controversial, but hugely popular figure in many pockets of the country. Islah is Gates' major label debut, and despite releasing a fairly negligible amount of music in 2015 — and courting controversy by admitting to sleeping with his cousin and kicking a female fan during a show — Gates' sleek but heavy-duty trap opus debuted at #2 on the Billboard 200. Today, its cumulative sales trump Kendrick's untitled unmastered by over 20,000, and yes, Gates has sold almost 3 times what Macklemore has.
To much of the music-blog-reading world, Gates scans like a niche figure for regional mixtape rap devotees. In reality, though, Gates' grassroots following is huge, and by now, three singles from Islah have charted on the Hot 100. Soon enough, Kendrick's returns will doubtless surpass Gates'; Islah came out in January, after all. Nonetheless, Gates' album debuting with 96k in physical sales and 112k overall is remarkable. It put Gates on the heels of outdoing Rihanna and Adele that week, and Gates claims by now that he has outsold Rih's ANTI-.
The rapper's success story is evidence, among other things, of how the narratives told by media outlets can be selective. Gates' star is, in areas like the South, comparable to Future's, though he attracts a fraction of his attention — let alone the other artists he competes for space with on the pop charts. And Islah's sales didn't come without precedence; each of past few retail mixtapes have debuted highly, despite the availability of free downloads, with 2014's By Any Means hitting #17 on the albums charts.
So if you haven't checked out Islah, do so. Its success is well-warranted; next to Lamar's Untitled Unmastered, perhaps, it's the most consistent rap release of 2016 thus far (Kanye stans, come at me). With Future's EVOL selling nearly 150k in its own right, and Young Thug's Slime Season 3 climbing the charts now, it looks like 2016 could be a major year for Southern rap in the commercial sphere.