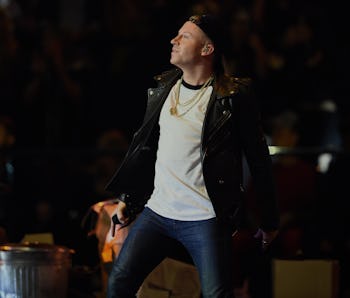 Entertainment
Will Macklemore & Ryan Lewis' New Album Qualify as Music?
'This Unruly Mess I've Made' is out next Friday, and will, whether anyone likes it or not, defy all musical logic and conquer the charts.
Brian Rasic/Getty Images for MTV
Diggity diggity damn!
"I used to work at Subway / Seven bucks an hour wasn't much mon-ay," opens chart-topping pop-rap paragon Macklemore's newest song, the KRS One-featuring "Buckshot."
Can you believe that it's the second Mackle-drop this week, folks? To claim that this much in one week feels a bit "extra" would be an understatement. It comes, after all, just a few days after the shot heard 'round the world that is the avant-garde twee gobbledygook "Spoons," with its flippant Gucci Mane references and a second half that sounds like a Unicorns song. Even just that felt like way too much too fast: The world was still busy recoiling from "White Privilege II," nine solid minutes of sociologically charged Mackle-splaining that were structured like a little musical revue inspired by "contemporary issues," co-written by your freshman-year theater class.
It boggles the mind that we've heard only five songs of this new, more ambitious Macklemore project — remember, it's called This Unruly Mess I've Made — and we're already so exhausted. Remember the Sheeran-core, Sublime-tinged, "look I have a baby" song "Growing Up (Sloane's Song)" from last summer? How about "Kevin" with Leon Bridges — can you rap that back to me? It wasn't a single, but it doesn't matter — it was a trending track for weeks, and he played it on the American Music Awards. There's a full album of this kind of stuff dropping next Friday.
And it is, definitely, its own kind of thing. This could be an insane landmark event in the history of rap. There's a 0.0002 percent chance it will flop, and every reason to assume that the album will be mind-boggling preservation chamber for the career of Ben Haggerty and his multi-instrumentalist Sancho Panza — Ryan Lewis. It will be a landmark in that it may be the most successful and least musical chart-topping album in the history of hip-hop.
These new songs — made in rural isolation, apparently — are mini-symphonies of thrown-together beats in divergent styles, wallpapered often by unbelievable sentiments and analogies that only the Macklemind could conjure up. Today's drop is the more bearable lot musically. Its production, after all, comes courtesy of one of the genre's most legendary producers, DJ Premier, not averse to questionable collaborations with white men trying to act "hip-hop" alongside luminaries of the genre. Still, "Buckshot"'s backdrop sounds like a Mobb Deep beat made for use in Gymboree classes; the Premier-produced "N 2 Gether Now," compared to this, is "Microphone Fiend." Even if Haggerty got Rakim to write everything he ever rapped, the redheaded Seattle native would still have no aptitude with the delivery — no ability to sell unlikely lines. Sorry, Preem, maybe this beat would be cool with AZ or somebody on it, but you've got the heavy layer of Mackle spread on top of it. It's similar to the way in which Quizno's has ranch or "ranchero" on every item on their menu: The issue with every Macklemore song these days (I believe it's just getting worse) is that there is just so much Macklemore on each of them.
Still, "Buckshot" feels closest to what music usually is. It verges on appealing at certain junctures, and stands in stark opposition to the artless montage music of "White Privilege II" or last year's formidable Hot 100 hit "Downtown," both of which make a really strong case for Macklemore having lost sight of how to make a unified, logical pop song. 'More is still going to sell millions of records whether or not these tracks have repeated sections maintain any kind of tonal center, or don't sound like a Dynamite Hack Pandora station being flicked through as quickly as possible.
Stock your songs up with as many '80s rap icons as you want, Macklemore. Put the best pop-rapper in the world on your album (yes, Chance the Rapper is slated to guest on This Unruly Mess, along with YG and … Idris Elba). The big picture will still be the same as it ever was. It will be the same suffocatingly sincere, disconcertingly specific, grating style — the same paychecks well above 95 percent of the music industry. Macklemusic means something to a lot of the world, for reasons one is usually frightened to try to unpack; maybe you've never met a person who has cried to "Otherside (Remix)," but they are out there. But Macklemusic, as Haggerty is at pains to clarify with every new drop, is increasingly far from what normally qualifies as pop music. It's something far stranger, and occasionally more dangerous.
Yeah, it feels almost to easy to hate Macklemore's music, but some things in life just are easy. Also, I'm really not sure if it's music. Someone ask John Cage.