'Downtown' and Macklemore's Attempts to Stay Hip-Hop
Macklemore's new postmodern pop-musical is a confusing sensory overload.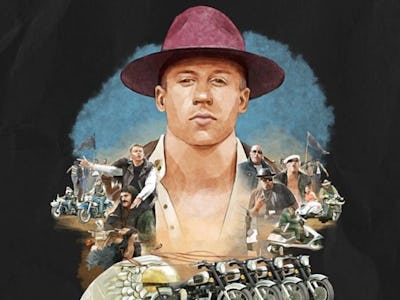 Most of the world has no problem characterizing Ben Haggerty, a.k.a. Macklemore, as a bonafide capital-P pop star — a guy who just happens to rap in his songs — more than one of the major figureheads in the rap genre. The reason to make this qualification is that his music has always had little to do with anything else going on in hip-hop, either in terms of style or content. Indeed, Macklemore seems to gain mileage for lightly defining himself himself against it. The swagless dance-pop beats, white-boy-delivered hooks and positive, goofy or outright bougie themes are precisely what helps him do those Taylor Swift numbers.
Yet Haggerty he still does view himself, seriously, as an MC. And why shouldn't he? He raps well. Also, he is conscious of the influence he wields, and the conversation he is entering into just by speaking in rhythm, even if he largely functions in some other self-styled, teeny-bopping dimension. "Thrift Shop" sounded like some retro-ized sax-o-beat shit that could have come out anytime in the last two decades; "Can't Hold Us" was an EDM-tinged dance-floor record which at most pointed to a love for Kanye's genre-bending, and ballads like the recent Ed Sheeran-featuring "Growing Up" appeal to parents who enjoy positive messages, staying "in touch" and Sam Smith as much as anyone.
But still, as Mackle the younger put it in his 2009 song "White Privilege," "Hip hop started out on a block I've never even been to." He understandably feels the need to explain himself away somehow — to prove that he is, in his own way, definitely a proud part of the hip-hop landscape and not just a very popular novelty act.
Macklemore has chosen to deal with his guilt in odd ways. He's mostly expressed it in interviews, and stunts like the post of the apologetic text to Kendrick after Mack won the Best Rap Album Grammy for The Heist over the undeniable rap-fan favorite, good kid, m.A.A.d city. But occasionally, his desire to interact, warily, with the broader hip-hop climate creeps into the style of his music in more subversive ways. 2013's "White Walls" was his weird tribute to nice cars, focusing on one interest of his which overlaps with typical rap-music subject matter. He recalls saving up to get that Caddy (instead of his hometown's typical "Honda Civic") before patching in some trap drum cadences and a Schoolboy Q verse.
But his newest single, "Downtown," is his most explicitly traditional hip-hop single to date, at least since rising to superstardom. It's an odd, sprawling song, both wholly out-of-time and in line with current fads. YG and even Kendrick have inaugurated a revival of the early '90s G-Funk style, embracing modern production which apes elements of both Dre and more eccentric Compton auteur DJ Quik's trademark styles. "Downtown," too, starts with a New West Coast groove, featuring a beat and crowd-shout-along vocals that suggest strongly that Mack and Ryan Lewis had been wearing out Kendrick's "King Kunta" (Macklemore acknowledged his love for Kendrick's To Pimp a Butterfly in his Complex August/September cover story).
But though the beat suggests this more early-'90s influence, there is also a spareness to the first half of the song that channels the elemental feel of '80s rap records. The idea that the song is reaching back to hip-hop's roots is borne out by Mack's bizarre choice of features, three of which come from hip-hop legends of the earlier decade: Kool Moe Dee, Grandmaster Caz, and Melle Mel. The odd thing is that these legendary figures — now largely faded from public visibility — are plugged in largely to deliver a unison group vocal. Also, in the video, they, like Mack, are dressed up in kitschy '80s costumes that are part Run DMC, classic LL, and The Warriors. The song, like the video, seems like an attempt to make a stagey, pastiche-y pop musical about the disparate elements of rap tradition with which Macklemore is enamored.
Eventually, the song drastically changes tone and feel, devolving into Killers-on-steroids power disco (in the video, there's a hugely-expensive-looking parade). Foxy Shazam frontman Eric Nally's hook is pounded into the listener to an extent that more than guarantees the song's future Top 40 success, and a fantastically overblown MTV Video Music Awards performance to remember (Mack and Ryan are scheduled to perform it there on Sunday).
So in the end, what seems at first like a stylistic experiment — a simple tribute to rap tradition — is just another irreducible example of that hard-to-parse, blockbuster-scale Macklemusic. Traditional hip-hop signs and signifiers are just pawns in the larger game (see also the lyrical references to Birdman's love of Bugattis and cruising around listening to Blackstreet). The video is a mish-mash of aesthetics — half MJ vid, half a B-Boy take on Newsies. There are clearly no bad intentions here, but the song ultimately amounts to Macky trying to doff the cap to the "culture" in another weird way. One wonders how much of it is out of love, and how much is out of perceived obligation.