Kevin Gates Made the Best Rap Album of 2016 So Far With 'Islah'
The Baton Rouge rapper capitalizes on his strengths, and makes successful bids for pop takeover, on his first major label album.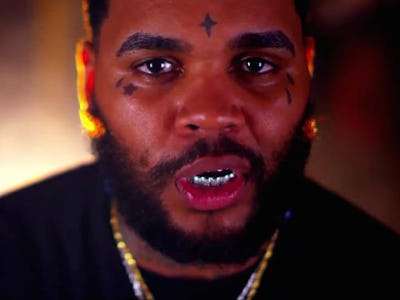 Kevin Gates Facebook
Baton Rouge rapper Kevin Gates is the biggest hip-hop act to come out of the Louisiana city outside of Lil Boosie (now Boosie Badazz). And now Gates' die-hard fanbase is threatening to outsize Boosie's. The rapper and singer now has three retail mixtapes that charted on the Hot 200. Three singles from his debut major label album Islah — which came out on Friday — have reached the pop singles chart, though they've stayed on the lower end. Still, it's rare and remarkable for a Southern street rapper with heavy-duty trap beats and uncompromising, often verbose lyrics to transition consistently over onto the pop charts. Regionally and elsewhere, Gates track are staples: A non-album single based around his notorious catchphrase, "I Don't Get Tired (#IDGT)," for instance, was in rotation last year as a bonafide urban radio hit.
The sales for Islah's first week are not in, but the album — artistically — is a remarkable achievement for the always unpredictable Gates. Above all else, it's refreshing for rap fans: This is simply the kind of straight-ahead, heavy-duty Southern hip-hop album one increasingly doesn't see major labels greenlighting. Indeed, it's been delayed heavily, and is now some three years coming: Gates entered a partnership with Atlantic Records in 2013. It certainly feels like a first studio album, with Flockavelian immensity of sound and plenty of hooks that gesture toward pop. Interestingly and admirably enough, though, the credits list on Islah isn't populated with expensive producers and special guests; in fact, nearly none of them are name acts, and the only features are packed onto one bonus track on the album's deluxe edition.
With 2013's introspective The Luca Brasi Story and other tracks through his mixtape run, Gates has made clear that his cracked baritone singing voice can deliver tuneful earworms, along the lines of Drake, if he were raised on Z-Ro and Jeezy. On Islah, he seems to have doubled down on his strengths in that department, veering away from the most hard-line trap music of last year's Murder for Hire EP. Tracks like "Kno One," "Really Really," and "Time for That" are singles both actual and possible, which highlight Gates' moving singing voice, which always manages to sound both damaged and surprisingly tuneful.
He's also left some room for experimentation. There are chant-along trap anthems, too ("Thought I Heard"), and acoustic guitar-studded, early-'00s romance rap ("Hard For" and "Jam," from the deluxe version of the album). Somehow, these experiments work for the most part, and are some of the highlights of the album. Despite the enormous weight of Gates as a vocalist, he can somehow float on lighter beats — as proved sporadically on earlier tapes — and it's the mix of the gruffness and sonic weight with the lighter balladry that makes Islah work.
Kevin Gates' sound is fully realized while holding so many untenable contradictions. He's proven — over his three years in the national hip-hop spotlight — that his personality on record is big enough to accommodate him shifting styles. He never comes out sounding like anything less that the most gifted and consistent street rapper currently working. Make sure to download Islah, the first great rappity-rap, nothing-but-hip-hop album of this year, and get accustomed to Kevin Gates' rough-hewn charm.