How Much Would a "Real" Tesla Model 3 Cost?
If we map the Model S's customization options onto the Model 3? A lot.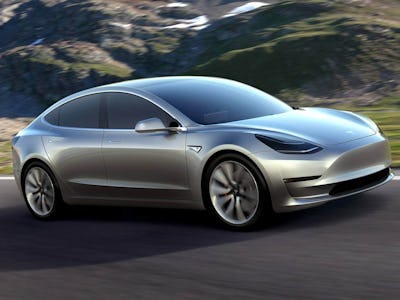 Tesla Motors
On Thursday, Tesla opened up reservations for the Model 3. Across the planet and, verifiably, in New York City, people lined up to spend two minutes reserving the next-gen electric vehicle.
From watching both the Model 3 unveiling by the great Elon Musk and the car's first test drive, we learned: A) that 130,000 people and counting joined the reservation fray and B) some other big things.
Among those other big things, we learned that the $35,000 price tag will, indeed, get you a Model 3 – but that entry-level price, as with many technologies these days, will in essence get you just a "Tesla," not a Tesla. Which in fact makes sense for Musk and for a relatively nascent car manufacturer.
Musk, during the unveiling, assured audiences that the starter-kit, $35k option will still be an incredible vehicle. And even though the most basic Model 3 will probably be mind-meltingly awesome, Musk – in addition to the first unveiling – hinted that there's more to come:
What could he be referring to? In a February conference call to Tesla investors, Musk gave us more insight into this business move. While the Model X was, in his opinion, the "best car ever," Musk explained that it was hubristic: "In retrospect, it would've been better to do fewer things at first, then roll in new features over time."
So with a shot to correct the mistakes made with the Model X, it looks like Tesla and Musk have rolled out an entry-level Model 3 with the idea of said "new features over time" coming around the corner in the form of buy-up options.
The Cost
If we perhaps safely assume that price spikes for more advanced options on the Model 3 will mimic those of the Model S, we can postulate the fully-loaded cost of the Model 3. For the Model S, you can pick rear-wheel drive or all-wheel drive and one of three batteries. You can also select "Ludicrous Speed Upgrade" and a carbon fiber spoiler, if you so desire.
Beyond those performance options, you can tack on convenience and luxury features, including: autopilot, premium interior and lighting, smart air suspension, ultra high fidelity sound, subzero weather package, and rear-facing seats. You can also choose an all-glass, panoramic roof and from several wheel choices.
In other words, the Model S is modular. Again, you can own a "Model S," or you can instead own a fucking Model S. Let's look at what the damage would be if we assume – recklessly – that each of these options will all be available on the Model 3, and at the same costs.
The jump from the most basic, rear-wheel-drive Model S battery to the state-of-the-art all-wheel-drive P90D battery will run you $38,000 — more than the cost of the basic Model 3 alone. Pearl white multi-coat paint and the all-glass roof will together add another $3,000. The best wheels – 21" Grey Turbine – cost an additional $4,500. Choosing the most expensive interior upgrades (to general décor, to premium interior and lighting, to ultra high fidelity sound, and to rear-facing seats) adds another $12,000. Let us not forget to add the Ludicrous Speed Upgrade and the carbon fiber spoiler: $11,000 all told. What remains is autopilot, smart air suspension, and the subzero weather package, all of which, together, total to $6,000.
And the grand total? $74,500 on top of the $35,000: a cool $109,500. If you live in one of nine enlightened states (California, Colorado, Delaware, Louisiana, Massachusetts, Maryland, Pennsylvania, Tennessee, and Utah), you'll get state incentives on top of the $7,500 federal tax credit. Tesla also estimates that, on average, you'd save $6,800 on gas over five years. Factoring in the federal tax cut and gas savings, you're looking at a $95,200 investment.
A bit misleading? Maybe. It's likely that not all of these options will be available for the Model 3 – and, even if they are, they might be cheaper – still a good possible upper boundary to recognize.
Musk, for his part, says that the average option mix will probably be just $42,000.
The base price on the Model S, for reference, is $75,000; on the Model X, it's $80,000.
You'll be saving the environment. But the "cherry on top"? You'll own a Tesla, the "envy of all cars."