Google's Sidewalk Labs Will Work to Help Cities Solve Traffic Congestion
The Smart City Challenge winner will receive 100 data-gathering kiosks to improve infrastructure.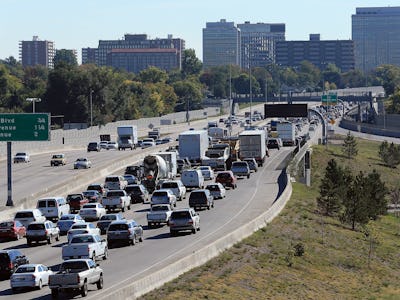 Doug Pensinger/Getty StStaff
The Department of Transportation announced today that one of the seven finalists in its Smart City Challenge will work closely with Alphabet's Sidewalk Labs to develop Flow, a network of wifi-enabled, data-gathering kiosks aimed at cutting congestion and improving the overall health of the yet-to-be-announced winning city.
U.S. Transportation Secretary Anthony Foxx announced the seven finalists Saturday at South by Southwest: Columbus, Ohio; Denver; Kansas City, Missouri; Pittsburgh; Portland, Oregon; and San Francisco.
One of those cities will see more than 100 kiosks across four neighborhoods, spanning approximately 25 blocks of the mid-sized city. Much like the Link NYC hubs popping up at former payphone stalls across the city, Sidewalk's technology will provide free wifi to low-income residents who aren't able to access traffic information from home and will include an Android tablet for navigation and synchronization with Google's apps.
Where the kiosks go further, however, is to outfit the structures with sensors that can gather anonymous data on traffic flow. Sidewalk says the data can be used by city planners to better optimize a city's infrastructure and eventually give real-time updates to public and private drivers about congested roadways as well as inform commuters about the best parking spots.
This is just one of the perks of the contest, which will award the winning city $40 million in funding from the DOT and an additional $10 million from the urban technology company Vulcan to create a modern smart city.
Essentially, these structures are going to be data-gathering machines outfitted not only with cameras, but also environmental detectors of noise and air pollution.
Sidewalk and the DOT initially see the benefits for city planners to begin applying infrastructure repair, and say eventually it could trickle down to consumer uses as well.
"This is going to take several forms, some of which will be used for consumers, some of which will simply create data and analytics built on top of that data for planners," says Dan Doctoroff, CEO of Sidewalk Labs. "We're going to work with the city to determine the highest value applications for citizens and planners as we move forward."
With all these sensors potentially lurking around neighborhoods, there are obviously concerns with privacy, but Doctoroff says the company is working with the seven finalists to determine precisely which sensors will be included on the final device.
"Privacy is clearly a defining issue and we are going to have to be very open," says Doctoroff. "Our interest is not in having individualized data but really is having anonymized, aggregated data."
DOT and Sidewalk Labs have already started collaborating with the seven finalist cities to develop a plan for implementation with hopes that the Flow platform can branch out to urban centers across the country.
"The unfortunate reality is that many folks lack access to the reliable, safe, and affordable transportation they need to reach these opportunities," says Foxx. "By embracing smart technologies and concepts that eliminate the digital divide, strengthen connections to jobs and remove physical barriers to access, we can strengthen communities throughout the country."