Obama at SXSW Says "You Cannot Take an Absolutist View" on Encryption Debate
To do so would be "fetishizing our phones above every other value," Obama said.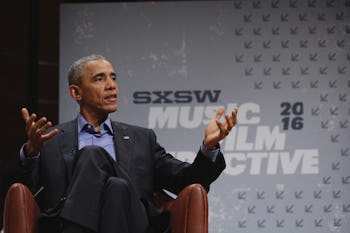 Getty Images
On Friday, President Barack Obama became the first sitting president to attend South by Southwest when he sat down with Evan Smith of the Texas Tribune. Among other notable events — such as Obama himself saying "Thanks, Obama" for getting employment down under 5 percent, and discussing the ease of ordering a pizza as compared to voting — the two spoke about encryption, Edward Snowden, and — implicitly — the FBI vs. Apple case.
This week marks the beginning of SXSW, the annual music, film, and interactive media festival held in Austin, Texas. The duo planned to converse, primarily, about redefining civic engagement in the 21st century — employing technology to augment political participation and stave off climate change.
Obama held the audience in suspense, arriving about a half an hour late to the party, perhaps due to the fact that he felt it necessary to consume tacos. (He reportedly ordered a Democrat, a Republican, and an Independent taco — "because I wanted to give all people an equal hearing.") SXSW Director Hugh Forrest introduced Obama, calling his attendance "one of the most special events — if not the most special event — in the 30 year history of South by Southwest."
Obama quipped that he liked to have "excuses to come to Austin, Texas," before elaborating: "We are at a moment in history where technology, globalization, our economy is changing so fast, and this gathering, South by Southwest, brings together people who are at the cutting edge of those changes." While technology is massively enabling, it has an overwhelming number of drawbacks.
He came to SXSW, he said, to recruit its attendees, to encourage them to help the government with their innumerable technological woes.
"Really, I'm here to recruit all of you; to say to you as I'm about to leave office: 'How can we come up with new platforms, ideas, approaches, across different skill sets to solve some of the big problems we're facing today?'
As an example, Obama mentioned the pride and then immediate embarrassment he felt upon rolling out Healthcare.gov. It was a big moment in American history — taking government infrastructure and putting on the great wide web — and yet the site, not long after going live, crashed. To get the site back online, he said he and his cohorts recruited a "SWAT team" of technology specialists. When this team succeeded, he realized that the government could do this to fix other outdated government programs. And that they did, he said. But he wants to ensure that the next president, and the federal government, work in "constant improvement mode.… We want to create a pipeline where there's a continuous flow of talent that is helping to shape the government."
He explained further that one of the sectors in which tech-heads could assist the government is political participation, saying that America is the only advanced democracy in the world that attempts to make it harder for its citizens to vote.
"We systematically put up barriers and make it as hard as possible for our citizens to vote. It is much easier to order pizza or a trip than it is for you to exercise the single most important task in a democracy, and that is to select who's going to represent you in government."
So he posed a challenge to the attendees: "How do we redesign our systems so that we don't have 50 percent or 55 percent voter participation on presidential elections?" While no one wants the federal government engineering online voting, he mused that — perhaps — if the private sector did the engineering, the public would trust the system more.
The conversation eventually led to audience questions, assembled before the event — and, predictably, everyone was wondering about encryption. The first question revolved around the FBI vs. Apple case, which, Smith editorialized, is making Obama appear a hypocrite. If the president is calling upon the tech industry to ally with the federal government, why is the federal government harassing — to put it lightly — the tech industry?
Smith posed the question directly: "Mr. President, where do you come down on the privacy versus security debate?"
Obama hedged, saying: "First of all, I can't comment on the specific case. So let's set that aside."
But he went on to discuss the exact contours of the iPhone debate, and came close to lambasting Snowden and the media for blowing Snowden's leaks out of proportion, saying that the reportage "vastly overstated the dangers to U.S. citizens."
Obama would much prefer to be a relativist when it comes to the privacy versus security debate: "My conclusion thus far is that you cannot take an absolutist view on this.… That does not strike the kind of balance we have lived with for 200, 300 years, and it's fetishizing our phones above every other value. And that can't be the right answer."
The right answer, he argued, is strong encryption with some access.
How that's designed, he can't say, but added: "I am way on the civil liberties side on this thing." But citizens need to be flexible, Obama thinks. They already are flexible when it comes to other, now customary privacy intrusions — such as TSA frisks and DUI checkpoints — but data is placed on a pedestal. We cannot have everyone "walking around with a Swiss bank account in their pocket," he cautioned.
Obama would therefore prefer a considered and calmly-made, wide-ranging decision that pulls in technology, security, and other experts. "We have engaged the tech community aggressively to help solve this problem," he said.
But if we do not succeed in making a such thought-out, purportedly rational decision, we'll face an ugly alternative: "After something really bad happens, the politics of this will swing." The rapid changes resulting from something "really bad," Obama argued, would lead to real civil liberty violations. And a brief study of history — cf. 9/11 and the PATRIOT Act — actually makes this last argument tough to deny.