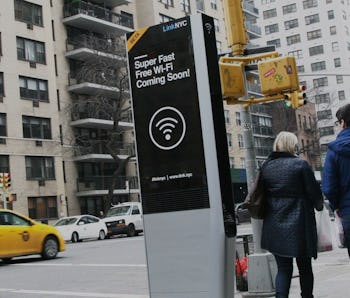 Innovation
Why New York City Is Removing Its Pay Phones
The city that never sleeps is about to become even more connected.
City Bridge
Hunting for a decent wifi signal in any city can be incredibly frustrating. Maybe your bar or restaurant doesn't offer it ("sorry, our wifi is down," you hear), and the coffee shop around the corner is closed. You feel stranded and unconnected, and can't do whatever thing you wanted to do — stream the last few minutes of a playoff game, download an email attachment, or upload something ridiculous to Snapchat. Finding good wifi can be just as important as finding a pay phone 20 years ago. In New York City, in the exact spots where pay phones once stood, wifi kiosks will soon connect people with the world — and you don't even need a quarter to use them.
Yes, the most populous city in the United States will soon be home to the world's largest public wifi network, made possible by a series of connected kiosks.
The project, called LinkNYC, is the brainchild of three tech companies — Qualcomm, Intersection, and CIVIQ Smartscapes, collectively called CityBridge — and it's intended to prompt a greater sense of "urban connectivity" in New York, or, as a LinkNYC spokesperson says, provide "a platform for innovations we haven't even thought of yet."
Free wifi zones have been a public amenity in many cities, but LinkNYC will offer the fastest and most substantial, the company says.
The installation of wifi kiosks will begin in earnest by mid-January and will be in full swing in July when 510 kiosks, or "Links," will bring gigabit-speed wifi, USB charging ports, and free phone calls to anyone with an internet-capable device.
LinkNYC hopes to see 7,500 Links sprawl across the five boroughs over the next 12 years, and notes that the technology stands to mold and evolve as people's needs change. A LinkNYC rep tells Inverse that the internet kiosks will have operating systems that are designed for regular updates.
"We'll be rolling out many new features in the months and years to come. LinkNYC is built to be modular and upgradeable. We don't know for sure what the future will hold, but we want LinkNYC to be able to grow and change as technology does to meet the needs of New Yorkers."
That being said, Links can be seen as public repositories of information — and entertainment — that live on the sidewalk, just like street vendors, or the once ubiquitous, but now outmoded, pay phone.
The idea sounds utopian, but prompts usual caveats: LinkNYC delivers seamless, free internet (within a 400-foot range in some instances) — but it also warrants the usual questions of privacy in respect to user-data. The company makes good use of encryption through HotSpot 2.0, a tool which acts as a kind of safety blanket meant to surveil existing security tools.
"LinkNYC will offer an encrypted network for HotSpot 2.0-enabled devices, making it one of the first encrypted public wifi networks and adding a critical layer of protection to personal data. On the LinkNYC Private Network, no one can see your online activity."
The question of governments collecting user data from Links follows the usual paradigm; however, LinkNYC notes that it will never sell user information to feed advertisers or third parties: "Like any other wifi providers or wireless carrier, we will respond to legitimate requests from law enforcement as required."
New York's transition from pay phones to wifi kiosks really got rolling in 2014 when New York City Mayor Bill de Blasio put out a request for proposals on how to repurpose payphone infrastructure with free wifi. New York-based technology and design company Control Group's submission won the competition and in September, Control Group merged with payphone company Titan to become a new company, Intersection, which is building the tech that runs the kiosks.
How will it be paid for? Advertising, of course; space for display ads takes up the sides of each wifi kiosk.