U.S. Transportation Department Offers Bus Crash Avoidance Tech Prize
Transportation Secretary Anthony Foxx announces the latest prize to be won in the 'Smart City Challenge.'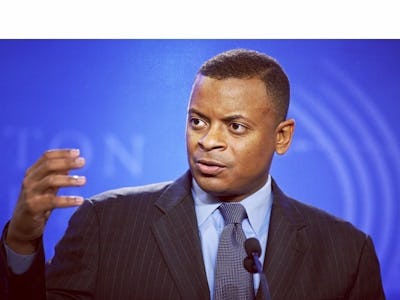 instagram.com/iwillridehsr
Appearing at the 2016 International Consumer Electronics Show (CES) in Las Vegas, U.S. Transportation Secretary Anthony Foxx announced Thursday that a major tech prize has been added to the DOT's previously announced award for the idea that wins the Smart City Challenge.
The Challenge, a crown jewel in Secretary Foxx's plan to update the flow of urban traffic by embracing the already omnipresent flow of data found in major metropolitan areas, is a competition that allows American cities to tap into federal funds to demonstrate how technology can streamline city transportation—from people driving to trucks delivering, from ambulances providing the quickest service to buses shuttling, and so forth.
The city whose plan of action is deemed the top can win as much as $40 million to bring its data-centered ideas of transport and commuting improvement to fruition—although the Secretary is pushing a rule from his playbook, that vehicle-to-vehicle communication tech must play a part by the end of 2016. A separate award of $10 million is also on the line, provided by Vulcan Philanthropy, a Seattle-based venture group who has expressed the desire that the Smart City Challenge will also lead to a reduction in carbon-based fuel consumption.
However, Foxx's Thursday 2016 CES announcement revealed yet another incentive: The winning city will receive the installation of driver assistance safety technology—from the Mobileye company, whose specialty is advanced collision avoidance systems—for its municipal buses, tech that would also add to the flow of data the Challenge is seeking to foster. Said Foxx:
"Our Department's partnership with Mobileye significantly strengthens this Challenge, devoting additional resources to the winning city so it can further develop its own unique vision of what a fully integrated, forward-looking transportation network looks like. The funding and technology contributed by our private sector partners will assist the selected city in using data-driven information to make their transportation systems safer and more efficient and prepare for the future of transportation."
The first round of Smart City Challenge applications are due February 4, 2016, when the U.S. DOT will choose its five finalists by March 2016—who will then vie for the announced prizes, which will be awarded to the winning city in June 2016. For more details, visit transportation.gov/smartcity.