Why Holocaust Dramas Are More Relevant Than Ever
A slew of recent Nazi-centric films tackle the past — and sound an alarm about the future
by Christine Jun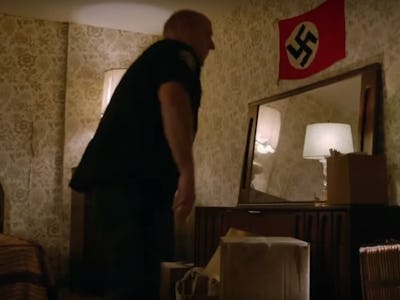 A24 via YouTube
You might have noticed a resurgence of new Nazi-themed film dramas, including The High Man in the Castle series. While the industry has produced many a Holocaust picture, I'd argue that such on-screen reflections are more relevant than ever. They continue to mirror disturbing parallels between the past and the rise of fascist rhetoric in American politics.
Take László Nemes' Son of Saul, which won the Oscar for Best Foreign Language Film. The finest of a new crop of Holocaust-themed films, it leads a resurgence of bleak, visceral films that help remind the viewer of the atrocity at a time when the number of Holocaust survivors, who can provide a first-hand account of the death camp horrors, is dwindling. While the slaughter of six million Jews is taught in schools, younger generations are becoming disconnected from the intimate — and horrifying — details.
In this way, Son of Saul helps set the record straight about Sonderkommandos, a hand-picked group of Jews who were responsible for burning the dead bodies left in the gas chambers. Unfortunately, Sonderkommandos have been historically stereotyped as "collaborating" or "helping" the Nazis kill their own kind by other Holocaust survivors and Jews. Son of Saul serves as a corrective to this misconception, as we witness Auschwitz from a Sonderkommando's point of view. Yes, the Sonderkommandos did receive slightly better treatment and more privileges than the average Jewish death camp prisoner, but the film also reveals that they also knew that they only had a two to three month work cycle before they were shot, and in turn, replaced.
Just as Survivors are disappearing, so are the Nazi war criminals who perpetrated the crimes. Atom Egoyan's revenge drama Remember, which opened last Friday in limited release, addresses the problem of individual and collective amnesia about the Holocaust. Christopher Plummer and Martin Landau star as survivors who meet in a nursing home and plan the murder of a former guard from Auschwitz, a plot driven both by revenge and the dementia and uncertainty that is slowly but surely fogging Plummer's aging brain.
Showing at Tribeca Film Festival this April, Ferne Pearlstein's documentary The Last Laugh includes appearances by well-known comedians like Sarah Silverman and C.K. Louis. The film deals with humor as a way of processing and reacting to the Holocaust today, and examines whether it is ever acceptable to use humor in connection with a tragedy of that scale, even in a society that prizes free speech.
Vincent Perez's Alone in Berlin, which is based on the 1947 book by Hans Fallada and premiered at the Berlinale this year, stars Emma Thompson and Brendan Gleeson as a middle-aged German couple who risk their lives to oppose the Nazis. In a recent interview, the cast of Alone in Berlin commented that the film holds real-world lessons for present-day Europe and it's treatment of refugees - especially as the recent influx of Middle Eastern refugees has been accompanied by a rise in ant-foreigner violence and nationalist parties in Germany. Actor Daniel Bruehl, who plays a Gestapo officer in the film, directly voiced his concern: "What the film is dealing with is unfortunately still very relevant and current because in all of Europe, especially in this country, there is a movement to the right. I think we all have to be very alert that we are not poisoned by all those people and their rising racist and fascist attitude."
Emma Thompson also saliently observed: "The sense of people turning their backs on people who need help … not being able to say the truth, not being able to say what you really feel I think is very current at the moment."