'Captain America: Civil War' Plot Synopsis Is Revealed by Marvel
The Marvel Cinematic Universe will be turned upside down as two of its most iconic heroes go head to head.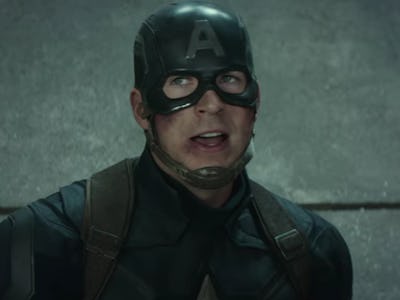 Marvel
We figured we had a handle on what the upcoming Captain America movie Civil War was going to be about since it has a fairly popular comic storyline as source material (not to mention a handful of cast interviews and a kickass trailer to let us in on the plot).
But the good folks at Marvel decided to make it official and released a synopsis to the movie this morning. But just because we know Iron Man and Cap were going to square off doesn't mean the synopsis doesn't pique our interest with a few new details.
Here's Marvel's full official synopsis for Civil War:
"Marvel's Captain America: Civil War finds Steve Rogers leading the newly formed team of Avengers in their continued efforts to safeguard humanity. But after another incident involving the Avengers results in collateral damage, political pressure mounts to install a system of accountability, headed by a governing body to oversee and direct the team. The new status quo fractures the Avengers, resulting in two camps — one led by Steve Rogers and his desire for the Avengers to remain free to defend humanity without government interference, and the other following Tony Stark's surprising decision to support government oversight and accountability."
So, yep, basically what we already knew was going to happen. But the surprising thing is the way Marvel is really playing up the Steve Rogers versus Tony Stark angle here. The civil war of Civil War is no joke. Making their most popular hero into an ostensible villain is probably the bravest thing the comic books giant has ever done in their mighty Cinematic Universe.
It finally looks like all of the massive destruction wrought by villains against the Avengers and the collateral damage is going to put in jeopardy everything these heroes have worked to protect. Even Marvel's harshest critics can't fault them for really pulling the rug out from their biggest money-makers.
The patriotic dude with America in his name fighting against the government, which is supported by the billionaire weapons manufacturing genius? Something tells us this is going to be good.
The cast for the Civil War is headlined by Chris Evans as Cap and Robert Downey Jr. as Iron Man, while Scarlett Johansson, Elizabeth Olsen, Anthony Mackie, Jeremy Renner, Sebastian Stan, and Don Cheadle will also return. MCU newcomers Chadwick Boseman and Tom Holland will debut as Black Panther and Spider-Man, while Daniel Bruhl stars as the evil Baron Zemo. Bilbo Baggins himself, Martin Freeman, will also appear in the movie in an undisclosed role.
Find out if Marvel will finally subvert expectations when Captain America: Civil War hits theaters on May 6, 2016.