Forget Drake, Jonah Hill and Future Perform "Jumpman" on 'SNL'
Jonah > Drake at 'Jumpman.'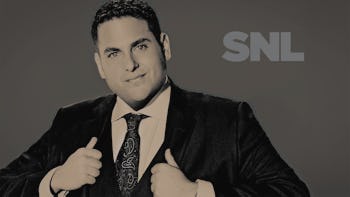 SNL
In contrast to his joyful SNL monologue in 2012 — the year he was nominated for an Oscar — Jonah Hill opened his 2016 appearance by noting that this has not been a particularly glowing year for him. He hasn't starred in a film since 22 Jump Street. On this, his fourth time on the program, Hill took a second to introduce musical guest Future and an opportunity to kill one of Drake's "Jumpman" verses with him.
The episode was a musical game of Boggle. Future was on the show to promote his recently released fourth studio album, Evol, wearing a variety of furs. He brought The Weeknd to sing on "Low Life" in the first of his two performances.
Though the rest of the episode involved Hill chuckling over the occasional line, he ripped through Drake's rap. It's not surprising that the actor elicited a smile with his hip-hop talents, but he did so by bringing a solid Drake, sans joke. It was nothing to be ashamed of.
Future made another appearance later on "Weekend Update" for a two second clip called "News from the Future" in which he simply said, "I told you I didn't want to do this, man! Get out of here!" Guess there's not a lot of news from the Future.