Coen Bros. Cram George Clooney, Scarlett Johansson, Josh Brolin In 'Hail, Caesar!' Trailer
The movie looks more 'Burn After Reading,' less 'No Country For Old Men.'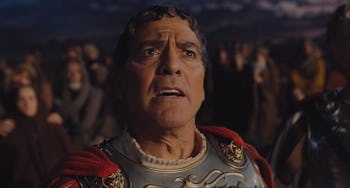 YouTube
Following Inside Llewyn Davis, one of the best films of their illustrious career, Joel and Ethan Coen are back with a comedic slant. Their new movie Hail, Caesar! takes place over the course of a single day in the life of an old Hollywood studio fixer named Eddie Mannix (played by Josh Brolin) whose problems become more complicated when a movie star played by George Clooney gets kidnapped.
The rest of the cast is rounded out by Ralph Fiennes, Scarlett Johansson, Tilda Swinton, Frances McDormand, Jonah Hill, Channing Tatum, and more.
Earlier this year in an interview with The Hollywood Reporter, composer Carter Burwell explained "It's a musical comedy that takes place on a Hollywood backlot, so you pass through all these pictures that are in production there." We spied a Busby Berkeley-type musical with Johansson, an On the Town Navy dance number with Tatum, a World War II movie with what looks like a Nazi U-boat, and a Roman historical epic starring Clooney's bumbling Baird Whitlock.
The movie looks to be more in the kooky Burn After Reading mode with a little bit of Big Lebowski nihilism thrown in for good measure. But the comedic farce allows the Coens to play with a bunch of different genres, letting them indulge in their love of cinema. Plus it makes sense to fill your movie about movie stars with as many movie stars as they possibly could.
A lot of the dozen said movie stars are Coen veterans. This marks their fourth collaboration with Clooney, third with Brolin, second with Johansson and Swinton, and seventh with McDormand (who also happens to be conveniently married to Joel Coen).
Hail, Caesar! hits theaters early next year on February 5, 2016.
Here are a few of the famous faces featured in the new trailer: