How Tidal's Latest Lawsuit Undermines the Company's Mission Statement
A new $5 million is another complication in the streaming platform's long and winding road to possible extinction.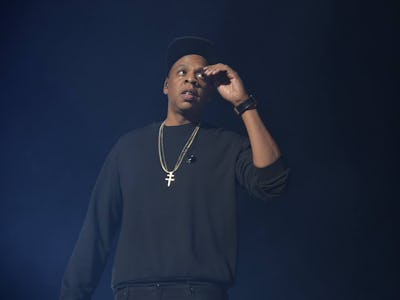 TIDAL Facebook
Music and video streaming platform Tidal has had a troubled and convoluted history as a company since Jay Z acquired it in March of last year, as we've struggled to document at Inverse. It's been making headlines more recently for both botching and short-circuiting event pop album releases, allowing both Rihanna and Kanye's albums to leak and now retaining sole rights to The Life of Pablo without reporting statistics to Billboard.
Still, the fact that Kanye chose not to expand distribution of The Life of Pablo outside of the service caused the number of subscribers of the service to double from 1 million to 2.5 million and counting since the release of the album two weeks ago.
Amid all the financial difficulties — purportedly, owner Jay Z has been paying out of pocket to keep the company afloat — it was announced last week by anonymous sources that there was a very good possibility that the rapper/CEO might be selling the company he acquired just a little less than a year ago to Samsung. Previously, the tech company had partnered with Rihanna to promote her Tidal-helmed release Anti, and worked with Jay on the fudged rollout for his 2013 album Magna Carta Holy Grail.
A new lawsuit — coming courtesy of a member of the band the American Dollar and their publishing company, Yesh Music, LLC — could cause problems for the company, just as their prospects were looking up. The $5 million suit, filed against Tidal and S. Charter Enterprises, LLC, alleges that Jay Z and Tidal made the band's catalog (almost 150 songs) available without paying any royalties. The documents included as part of the suit show further evidence that overall, Tidal may be underpaying royalties for its artists by well over 30 percent.
The chief selling point of Tidal after Jay Z acquired it was that the service was essentially "for artists, by artists." He claimed that "artists, writers and producers" would be paid 3/4 in royalties for each song they have streaming on the service. The lawsuit from the American Dollar leader John Emanuele and his business partner Richard Cupolo alleges that the company has fallen drastically short of this unprecedented promise.
Tidal, however, didn't seem phased by the accusations, and immediately responded with vehement denial of coming up short on its responsibilities. Some choice quotes from their statement:
"Tidal is up to date on all royalties for the rights to the music stated in Yesh Music, LLC and John Emanuele's claim and they are misinformed as to who, if anyone, owes royalty payments to them."
"The main compositions in question were released by the American Dollar and their entire catalogue streamed fewer than 13,000 times on Tidal and its predecessor over the past year. We have now removed all music associated with Yesh Music, LLC and John Emanuele from the service."
"They especially should not be naming S. Carter Enterprises, LLC, which has nothing to do with Tidal. This claim serves as nothing other than a perfect example of why America needs Tort reform."
Pitchfork reports that Emanuele and Cupolo have also been involved in two ambitious copyright lawsuits before — one with the pre-Spotify streaming site Grooveshark, which has since been shut down for not adhering to copyright law even marginally.
Our best guess is that this suit will not affect Tidal's future, if the data supports Tidal's steadfast claims. The company will find support and liquidity under Samsung's wing, and Jay Z — who has seemed poised to flee from Tidal for some time — will be forever free of this kind of complaint.
In the process, though, it seems likely that Tidal's promise of 75 percent in royalties to every artist — way beyond that of any other streaming service — will be retracted to some degree, if it hasn't been already. Will Jay Z's departure lead Tidal's emphasis on exclusive content — from televised concerts to music videos to albums — to be diminished? If so, Tidal will doubtless have a much more uphill battle than it already does to compete with Spotify and Apple Music, both of whom have a much higher subscription rate, even despite The Life of Pablo.