A TIDAL Wave of New Coldplay, Featuring Barack Obama
Coldplay's new album is about to touch down, and provide the typical comforts of a Coldplay album. Here is evidence.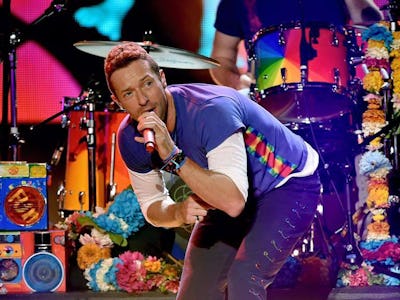 British pop-rock stalwarts Hotwork… I mean, Coldplay is back. Their eighth album — A Head Full of Dreams — arrives the Friday after next. If you've lost track of the band for a while, I can assure you: These guys are, though now in their forties, still donning the distressed jeans, expensive colorful T-shirts, multiple wristbands and pins that they began to embrace almost ten years ago. Chris Martin — a guy so nice he can't even get divorced like a normal person — is still as charming and uncannily energetic as ever, and the other members of the band are still affable clones of the drummer from Radiohead.
A Head Full of Dreams sounds like someone making up a joke name for a Coldplay album, and the music is just as idiomatic for them. At least, if we can take the three new songs from the album Coldplay played this weekend in Los Angeles to be a good indication — two were world premieres. These aren't some crappy live fan-cam uploads, but exclusive multi-cam rendering from a TIDAL broadcast. (As a side note: TIDAL, still going.) The videos and audio rips have just been removed from YouTube by TIDAL.
The three songs fall solidly in recognizable 'Play categories: anthem, piano anthem, ballad-anthem. The title track of the album is a U2 tribute song, dominated by Edge guitar chem trails and an explosive wordless coda. "Amazing Day" is a lullaby of a rock waltz, full of wide-eyed Martin-esque wonder ("Life has a beautiful crazy design"). "Up&Up" — which Martin introduces by saying it's "the song [the band] has been wanting to write for 15 years" — comes across like their 2000 anthem "Everything's Not Lost" with more modern pop syncopations in the vocals and extensive, wending guitar noodling, toeing the line between where "Hey Jude" ends and "Drops of Jupiter" begins.
As always with Coldplay, there's a potent and distracting impression of derivativeness, unintentionally humorous lyrical cornballisms, and that path-of-least-resistance formula for success that has been the band's signature since the days of Parachutes: hitting that soaring, falsetto hook as soon as possible, playing it for more than it's worth.
These Coldplay songs are nowhere close to a change in direction for the band, or even surprising in any way. But as always — especially since the sound and quality of the band's output began to plateau circa 2008's Viva La Vida — their controlled and consistent sense of how to put together a pop melody, and maintain their signature sound proudly (without fumbling through experiments that would be comically outside of their comfort zone) is a source of continuing endearment.
"Yellow" is over 15 years old, but the 'Play endures. Life is a symphony of love and rainbow-colored piano plink-plink-plinking ad infinitum; slowly, we ride into our respective sunsets, as Chris Martin recites breathily, "We're gonna get, get it together somehow — I know."
Look out for the video of the album's next official single, "Adventure of a Lifetime," due out November 27th. Barack Obama is on it!