Why Valve Needs the Steam Deck 2 — And Soon
With the growing competition, it can't afford to wait around.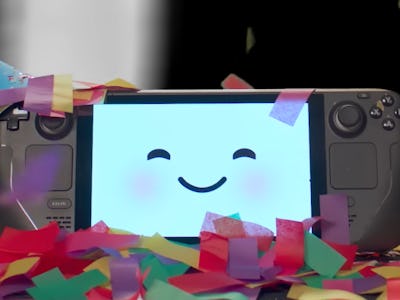 Valve / YouTube
No one can deny that the Steam Deck was a genre-defining device that set the new bar for gaming handhelds, but technology has a way of moving pretty fast.
Even though the Steam Deck was just released in early 2022, Valve already has lots more competition. Since its release, we've seen gaming handhelds pop up left and right — longtime players like Ayaneo and Ayn are really turning up the heat and have released top-of-the-line machines the Ayaneo Kun and the Ayn Loki Max.
Even Asus and Lenovo have recently jumped into the handheld market with some promising entries. With no immediate follow-up to the Steam Deck and more demanding game releases, Valve is leaving the market wide open for competitors to pick up steam.
JUST VALVE THINGS
The Steam Deck is still top-tier when it comes to modern gaming handhelds, but other brands aren't wasting any time. The Asus' ROG Ally acts as a direct competitor to the Steam Deck but one that offers a better processor and display in a slimmer package. That alone should be enough to wake Valve up and tease a Steam Deck with some key upgrades.
Yet, Valve seems to be taking the opposite approach since Steam Deck designer Pierre-Loup Griffais even told The Verge that we would be waiting until at least late 2025 for a Steam Deck 2. Tom's Guide did see that a new version of the Steam Deck is passing through the FCC's certification process, but that's only one of many steps in the long journey before an actual device's release. On top of that, this filing could just indicate a refresh and not a full-blown follow-up to the Steam Deck.
It may seem strange of Valve to not expedite a Steam Deck 2, but it's rather on-brand for the company. Valve does like to drop a fantastic blueprint for a device, then let the rest of the industry play catch-up. It did the same thing with its successful VR headset, the Valve Index.
CAN THE STEAM DECK KEEP UP?
We're happy to wait for Valve to deliver a quality Steam Deck successor, rather than a rushed follow-up, but not everyone is as patient. Frustrated gamers who are looking for a premium handheld experience — and some upgraded specs maybe — wouldn't be off-base for looking elsewhere.
And the market is already delivering in terms of a more powerful handheld than the Steam Deck. We see options like the pricey Onexplayer 2 and the long list of alternative handhelds from Ayaneo. Now the question is will Valve perfect the next-generation handheld first, or will we see another player step in to fill the void?