Tile's Anti-Theft Solution Might Be Too Extreme for Most
Tile's new Anti-Theft Mode will make its trackers undetectable, but to enable it, Tile wants the ability to share your information with law enforcement.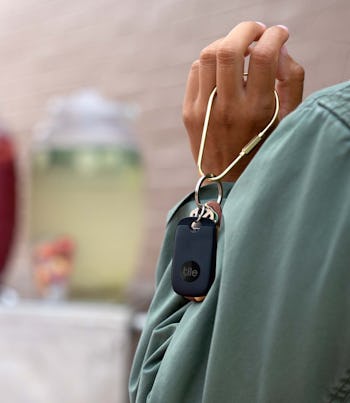 Tile
Tile is introducing a much more proactive way of handling both thieves and potential stalkers that could use its Bluetooth trackers for nefarious purposes. It calls the new feature Anti-Theft Mode, and when it's enabled, it makes Tile devices undetectable to the company's own Scan and Secure feature, though it comes with its own costs to privacy for the user if they decide to enable it.
Undetectable
Anti-Theft Mode was created, according to Tile, because it noticed a "gap in the Bluetooth finding category's ability to address theft." Most people add a tracker to their belongings so they can find them if they're misplaced but also for the piece of mind of knowing they can be tracked down if they're lost.
With Anti-Theft Mode toggled on, your trackers are invisible to any other person trying to find them using Tile's app, making the trackers that much more useful if they're attached to something that's been stolen. To turn the feature on you'll have to submit yourself to a multi-factor I.D. process (putting your government I.D. and photo on file) and accept Tile's terms: the company will share a users personal information with law enforcement "at [its] discretion" to "aid in the investigation and prosecution of suspected stalking," and anyone convicted of stalking someone by using a Tile tracker will receive a $1 million fine.
Not exactly small requests to make of someone toggling on a setting in the Tile app.
Security at the cost of privacy
Tile rationalizes this move because it sees it as the only way of discouraging someone from using a tracker and Anti-Theft Mode to even more efficiently stalk someone. The problem is Tile and Apple's own creation. When it became abundantly clear AirTags and Tiles were being used to track people without their knowledge, both companies introduced features like Tile's Scan and Secure to let you know if someone might have slipped a tracker on your person without you knowing. Unfortunately, the same features also make it easy for a thief to locate and remove a Tile or AirTag that might be later used to find a stolen item, hence the creation of Anti-Theft Mode.
Tile's strategy is extreme, and ironically a bit invasive — you're giving up a portion of your right to privacy by letting the company share your information with law enforcement as it sees fit. If you're willing to take Tile at its word, there's no cause for concern, but even opening up that line of communication at all between the company and law enforcement seems ill-advised.
And caution might be warranted. In 2021, The Markup found that Life360, Tile's owner, had been selling precise location data it had collected from customers since 2016. Life360 promised to not sell Tile location data and later scaled back its entire data sales operation in 2022, but a public commitment to collaborating with law enforcement leaves a possible avenue open to pressure the company for information. Anti-Theft Mode is optional, and given what's required of anyone who turns it on, it might stay toggled off for many people.