This Tiny Webcam Only Listens To You When You're on Camera
The Tadpole's ultra-portable clippable design means you can easily take it anywhere.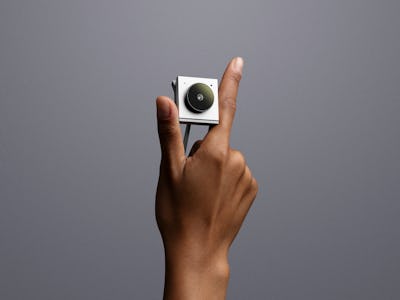 Opal
You won't be able to blame Opal's Tadpole for any awkward hot mic incidents.
Opal's second webcam, the Tadpole, has a fitting name since it's a tiny webcam that can clip onto any laptop and connect via a USB-C cable. Unlike the Opal C1, the Tadpole uses a directional mic and an AI feature called VisiMic that restricts the camera to only hearing what it can see. On top of that, there's even a mute switch on its USB-C plug. All of that should prevent any unwanted audio, but you should probably keep muting yourself on Zoom calls, just in case.
CLIP TO ANY LAPTOP
Opal says the Tadpole was designed specifically for laptops with its lightweight, clipping design. Even though it's roughly the size of an iPod Shuffle, the webcam still packs a 48-megapixel sensor that translates to 1080p video at 30 fps. That's a huge quality improvement from Opal's C1 and puts the Tadpole amongst the highest-quality webcams on the market.
With its Sony sensor, the Tadpole is on par with Insta360's Link webcam which also offers a 48-megapixel sensor and AI features, but Opal's discreet design is unmatched. The sleek webcam doesn't stick out when clipped onto any laptop and its compact size means you can throw it in your bag without weighing you down at all.
If you're wary of trusting the Tadpole to automatically mute you when you're not in frame, Opal included a capacitive button on the USB-C plug as a mute switch. You may not be able to feel a physical confirmation of a click, but the Tadpole has a red LED light that will confirm that it's muted.
DESIGNED FOR THE MOBILE WORKER
Opal says the Tadpole is already available for $175 in white or black. It's hard not to imagine the blacked-out webcam pairing well when clipped onto the MacBook Pro in space black. For some extra protection when you toss the Tadpole in your work bag, there's a case for an additional $25.