This Dual-Screen TV Is Free if You Don't Mind Never-Ending Ads
The TV may be free, but there's always a catch.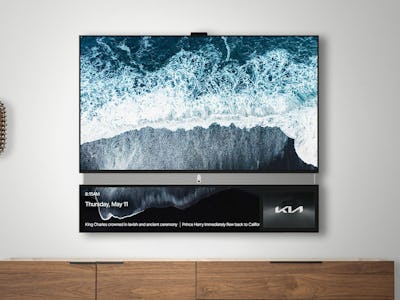 Telly
Free, ad-supported TV now has a whole new meaning. Telly, a TV startup founded by Pluto TV's co-founder, Ilya Pozin, took the wraps off a novel dual-screen TV that it plans to give away for the low price of $0... well, sort of.
While Telly's immediate appeal comes from the alluring promise that its Dual Screen Smart TV is free, like all free things, there's a serious catch —in this case, that catch is having to be an audience for targeted ads that appear on the TV's lower screen. The main screen looks pretty much like what you'd expect from any other decent display, but the second, smaller screen offers ancillary info and could potentially serve as a smart home hub.
Telly is pretty transparent about its Dual Screen Smart TV's whole model being powered by ads, but it's worth noting that both screens may host ads, according to what Dallas Lawrence, Telly's chief strategy officer who spoke to The Verge.
MORE THAN A TV
In addition to being a canvas for blasting ads into your eyeballs, Telly's "Smart Screen" acts as a smaller display for secondary info, like news, sports scores, weather, and stocks. As seen in the press images, Telly has a corner of its secondary screen consistently displaying ads.
The Smart Screen connects to the main display with a sound bar, which also has a camera in the center that you can use for video calls or Telly's built-in fitness programs. Lawrence also told The Verge that the camera will have a privacy shutter, at least.
Telly didn't reveal many specs about its main display, only that it's 55 inches and does 4K video. The TV will also have a video game service, a five-driver sounder bar, and built-in voice assistant. The Dual Screen Smart TV will have three HDMI ports, and you'll get a 4K Android streaming stick with the TV. The Telly will be compatible with other streaming services or devices from Roku, Amazon, or Apple.
FREE, FOR A COST
Telly is planning to ship out 500,000 of its Dual Screen Smart TVs, but you have to join the waitlist to get your hands on one. That seems fairly ambitious for an unheard-of TV startup, but there doesn't seem to be much risk involved since you're not paying for anything. Be aware that the signup process for the TV does ask questions about you and your household for some targeted ads.
Interestingly enough, there's an option to opt out of Telly's data collection methods, but you'd be forced to either return the TV or face a $500 charge. Of course, there are a bunch of privacy and ethical questions surrounding this "free" TV, but you just have to ask yourself if a free TV is worth your personal data. As with any product that advertises itself as free, you — as the consumer — are the product.