With 61-Megapixels, Sony's New A7C R Is A YouTuber's Dream Camera
Sony's new cameras have the best of its more expensive models for less money.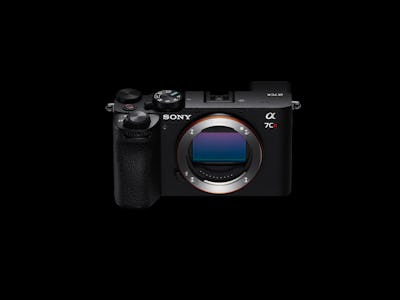 Sony
Sony has two new compact full-frame cameras — the A7C II and A7C R — and they both sound great for creators, YouTubers, and photographers craving resolution.
Basically smaller versions of Sony's more expensive A7 IV and A7R V, the two new A7C full-frame mirrorless cameras pack more megapixels for detailed photos, and AI for best-in-class subject tracking.
Introduced in 2020, the A7C has become one of the most popular vlogging cameras for several reasons: it's full-frame with 24.2 megapixels; it's smaller than Sony's more premium interchangeable lens cameras; it's more affordable; and it has a flip-out screen.
Three years later, Sony's leaning in with more everything, split across two new models.
MAXING OUT MEGAPIXELS
Since the "C" in Sony's A7C lineup refers to the compact design and the "R" in Sony's cameras to the highest resolution possible for stills, the A7C R, naturally, gets the best of both with a 61-megapixel sensor plucked from the A7R V. All that resolution would be well-suited for travel photographers who are hunting for sweeping landscapes.
As for the A7C II, it's more of an iterative update. It comes with Sony's latest processors, a revamped button layout, and a higher resolution 33-megapixel sensor (same as the A7 IV) that now does 4K at 60 fps. On the original A7C, 60 fps is limited to 1080p.
Both the A7C II and the A7C R feature Sony's latest AI processing unit and Bionz XR processors that we first saw in the A7R V and A6700. Both cameras have five-axis in-body image stabilization and support 4:2:2 10-bit video recording up to 4K at 60fps. Like Sony's other recent cameras, both A7C cameras have a ton of AI capabilities like auto-framing and improved subject recognition. Things that creators have wanted.
Compared to Sony's original A7C, the A7C II and the A7C R offer a better design with a customizable front dial and a switch dial that lets you jump between still, video, and S&Q modes easily.
NEW G-MASTER LENS
Sony says both of its compact cameras will be available this fall, with the A7C R starting at $2,999.99 for the body only, while the A7C II will start at $2,199.99 for the body only. For comparison, the Sony A7R V body costs $3,899.99 and the A7 IV body costs $2,499.99.
Sony is also offering the A7C II in a bundle with a 28-60mm lens that starts at $2,499.99. Along with the two new compact cameras, Sony introduced its latest G-Master 16-35mm f/2.8 II wide-angle zoom lens that starts at $2,299.99 and will also be available in the fall.