Razer Finally Made a Mechanical Keyboard With Swappable Switches
It may be Razer's first hot-swappable keyboard, but it won't be your last.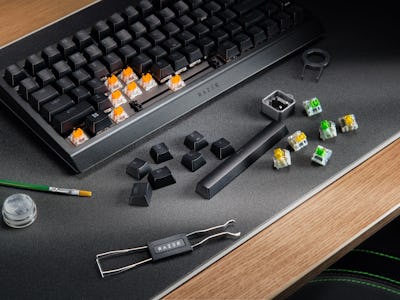 Razer
Razer's pre-built gaming keyboards like the BlackWidow V4 Pro and its Huntsman V2 TKL with optical switches are highly regarded for their low latency and fast response rates. But the one thing gamers have been asking for is the ability to swap out the switches like on Keychrons or Lemokey L3. Now you can with the BlackWidow V4 75%.
As the name suggests, the BlackWidow V4 75% is a 75 percent layout keyboard. At first glance, the BlackWidow V4 75% looks like any other Razer keyboard. It has an aluminum body with two-side under glow and per-key lighting for that stereotypical RGB-heavy gamer look. Razer also included its roller and media keys at the top right, pulling from its other BlackWidow products.
Of course, the main difference with the BlackWidow V4 75% is the hot-swappable sockets that let you switch out Razer's stock switches and keycaps. Throw in reds, blues, browns, banana splits — whatever switches you want in there because it's your keyboard and you can customize it to your heart's content whenever you feel like it.
Razer included its own third-gen pre-lubed orange mechanical switches, which have been improved for a better tactile feel. No one is stopping you from installing your own keycaps, though, especially if you want them in Elvish or Dwarvish.
Razer does at least seem to understand that mechanical keyboard builders are chasing that satisfying "thock" when they type and says its latest model will have a "full, satisfying sound" thanks to two layers of dampening sound foam along with its orange switches.
BLACK OR WHITE
The blacked-out version of the BlackWidow V4 75% is already available at Razer's website and retailers, starting at $189.99. Razer says it's working on a white version that will go for $199.99 and release in mid-September. That may cost more than some of the more budget builds out there from Keychron, but Razer is most likely targeting those who are too shy to start from scratch with their own custom-built keyboard.