Keychron Goes After Gamers With New Lemokey L3 Mechanical Keyboard
Gamers now have a really nice fully customizable and wireless mechanical keyboard option.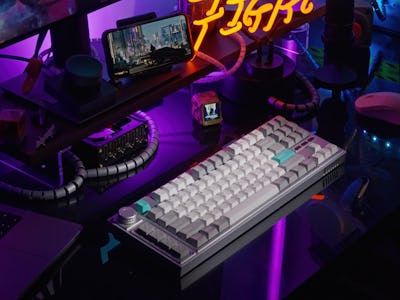 Keychron
Having essentially brute-forced its way into becoming one of the most popular custom mechanical keyboard makers, Keychron is now setting its sights on gaming.
The company today announced a Kickstarter for a new gaming sub-brand, Lemokey, with the first product being the L3 customizable wireless mechanical keyboard designed for gamers.
Why create a sub-brand when Keychron is now a household name? A Keychron spokesperson sent the following when I inquired:
Keychron decided to launch Lemokey in response to the problem of gaming keyboards lacking customization options and not offering a premium typing experience. Starting with L3, Lemokey keyboards will be catering to the unique needs of gamers and typists who desire a higher level of performance and personalization.
That's a fair assessment. When we wrote up our guide for the our favorite mechanical gaming keyboards for PC gaming, the options for customizable mechanical boards were quite limited. Lemokey could fill the void outside of boards from Razer and Steelseries.
Lemokey L3 Keyboard Features
The Lemokey L3 looks pretty solid based on the specs alone. The case is CNC'd out of 6063 aluminum and the board uses a double-gasket-mounted design with sound-absorbing foam and case foam. The L3 supports hot-swappable switches; there's QMK/VIA key mapping software support; and features a 2.4GHz wireless connection and 1000Hz polling rate. Furthermore, the Lemokey L3 can connect up to three devices over Bluetooth. For the best performance, though, you gotta use the wired connection.
Keychron's selling the L3 in three colorways (Carbon Black, Blue, or Silver) with Cherry double-shot PBT keycaps. The L3 is an 80 percent layout, meaning it has a function row, home cluster, and arrows. To the left of the board is a rotary encoder knob and four programmable macro keys. In fact, the entire layout looks borrowed from Keychron's Q3 Pro. There are some differences in design, including venting and smaller macro keys, but they've very similar. And yes, there's RGB — south-facing RGB — with 22 backlight settings pre-programmed.
Battery life from the 4,000 mAh cell that charges over USB-C is rated at up to 100 hours on the lowest brightness and up to 200 hours with the backlight off.
Lemokey L3 Pricing and Release Date
The L3 has already surpassed its $50,000 funding goal with over $101,000 pledged at the time of this writing. But not to worry, you still have 30 days to get your pledge in. A barebones L3 without any switches or keycaps is $189 and a fully assembled model goes for $209 with your choice of Gateron Jupiter Mechanical Red, Brown, or Banana switch options.
Keychron says it expects to start shipping out L3 boards in September and fulfill all orders in October.