Opel's New EV Concept Has a Retractable Steering Wheel
Along with projection tech for the dashboard and reactive fabrics for the interior.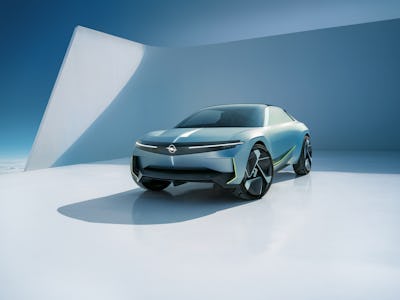 Opel
Opel may have not released any all-electric vehicles yet, but its Experimental concept is giving us a lot to look forward to when it does.
As a concept, the Experimental features cutting-edge technology like projections instead of a traditional dashboard, reactive electrochromatic fabrics, and a steering wheel that can retract when it's not being used. We're used to carmakers putting out wild EV concepts, but there is a real chance that Opel draws on its Experimental for upcoming all-electric options.
MINIMALIST INTERIORS
Opel says it designed the Experimental's interiors with "space detox" in mind. To achieve a more open and liberating feel, there's a steering wheel that can fold away when not being used, thanks to its steer-by-wire design that eliminates the need for bulkier mechanical steering components. Instead of a traditional dashboard, the Experimental will use projection tech to show the driver the necessary info. The seats were even designed to be lightweight and adaptive, equipped with the Pure Pad in the front armrest that lets you customize it to have your most frequently used controls.
On the outside, Opel wrapped the Experimental in a futuristic design to match the interiors. There are no traditional side-view mirrors, instead replaced by 180-degree cameras that are installed on the C pillars. The front and the rear of the conceptual EV have aero flaps that can extend or retract to improve aerodynamics, along with the rear diffuser. The revamped Opel Vizor at the front of the EV now fits all the sensors, Lidar, radar, and cameras to support all the new tech, but in a thinner and illuminated housing. The Experimental will sit on Stellantis' BEV platform, most likely its STLA platform, in an all-wheel drive configuration.
Opel also opted for a greener design with the Experimental, skipping the typical chrome for the exterior. Instead, it'll use exterior lighting and bold graphics to draw attention. The interiors will also use reactive electrochromic fabrics that help set the ambiance but also have a practical function since they can alert you when another vehicle enters your blind spot.
SEPTEMBER DEBUT
Opel has caught our attention with its innovative interior and exterior designs for its conceptual EV, but it's a waiting game to see when the German automaker will port it over to production-ready models.
Since Opel is working on electrifying its portfolio, including its Astra, Mokka, and Corsa models, it might not be too long until we see some of the Experimental's futuristic tech introduced. Opel says it will present its Experimental at this year's IAA Mobility in Munich show that goes from September 5 to 10.