Nothing Confirms Phone 2 Uses Snapdragon 8+ Gen 1 Chip
Using a last-gen chip could mean the Phone 2 costs less.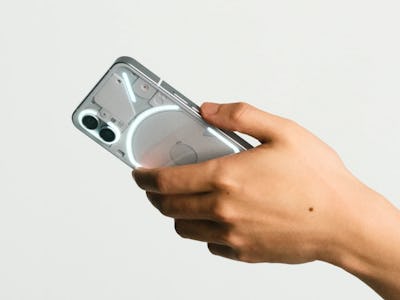 Nothing
A day after Inverse exclusively reported that Nothing has scooped up a bunch of ex-OnePlus talent, including former OnePlus CMO Kyle Kiang, in the lead-up to the Phone 2 launch this summer, the company co-founder and CEO, Carl Pei, has confirmed the device uses Qualcomm's Snapdragon 8+ Gen 1 chip.
If you're a tech enthusiast — the consumers Nothing is now aggressively targeting the Phone 2 at — you might be scratching your head and wondering why the second-generation phone is using a chipset released last year instead of the latest Snapdragon 8 Gen 2 chip that's in every 2023 flagship phone such as the Galaxy S23 Ultra and OnePlus 11.
Phone 2 vs. Phone 1
In a Twitter thread, Pei compared the improvements of the Snapdragon 8+ Gen 1 chip in the Phone 2 with the mid-range Snapdragon 778+ chip in the Phone 1.
Comparing both chips, he says that opening apps on Phone 2 is "twice as fast" versus Phone 1 and that the 8+ Gen 1 chip has an "80% overall performance improvement."
Next, he says "battery life, network connectivity, and camera capabilities, among others" have "significant improvements across the board."
The cameras on the Phone 2 are also capable of producing better images thanks to the Snapdragon 8+ Gen 1's 18-bit image signal processor, which allows for RAW HDR photo capture and 4K video recording at 60 fps.
My colleague Ian Carlos Campbell said this just reads like a Qualcomm slide, and he's not wrong for thinking it. Comparing the Snapdragon 8+ Gen 1 chip to the less powerful mid-range chip inside of the Phone 2 spins the Phone 2 as a major performance upgrade.
If you compare the Snapdragon 8+ Gen 1 to the 8 Gen 2, it lags behind. But not by much. Benchmarks show the Snapdragon 8 Gen 2 chip is only around 12 percent more powerful on single-core tasks than the 8+ Gen 1; multi-core is different, with the 8 Gen 2 capable of up to 41 percent more power.
And as for power consumption and overheating (a problem that the non-plus version of the Snapdragon 8 Gen 1 suffered from), that shouldn't be a concern on the Phone 2 because the 8+ Gen 1 corrected them with TSMC's 4nm process versus the inferior Samsung 4nm process used in the 8 Gen 1.
"We chose the Snapdragon 8+ Gen 1 for a reason. Manufactured on TSMC's 4nm process, it's best-in-class when it comes to power consumption and heat management," tweeted Pei. "No debate here."
Phone 2 Price Rumors
Using a last-gen Snapdragon chip in the Phone 2 might upset real gadget heads, but it likely has everything to do with cost.
I have heard from a source familiar with the matter that including the Snapdragon 8 Gen 2 chip would have added "about $100–150" to the price of the Phone 2.
If we do some quick math using the Phone 1 £399 (about $494 USD) launch price as a base, that would mean the Phone 2 starts at around $594–644 USD. Does that mean the Phone 2 will fall somewhere between $494–$594 USD? That would be pretty aggressive compared to Samsung and OnePlus' flagship phones.
"Sometimes the latest technology comes at a cost which isn't always justified from a user benefit standpoint," Pei said on Twitter. "Choosing Snapdragon 8+ Gen 1 ensures that Phone (2) remains accessible while delivering a significantly improved experience compared to Phone (1)."
Accessible you say? Might that be about the price?
Phone 2 Leaked Specs
Nothing has yet to release a full view of the Phone 2. Earlier this month, the company put out a small teaser video (below) showing what appears to be the rear corner of the device. It's so clearly part of the LED Glyph Interface, a feature that I hope sees some kind of upgrade.
A recent Geekbench score revealed some Phone 2 specs, including 12GB of RAM (8GB is likely, too), a 5,000 mAh battery, and an AMOLED display with 120Hz. It's also safe to say, based on Phone 1, that the Phone 2 will have a display that's at least 6.55 inches and built-in wireless charging.
2023 Nothing device lineup
Here's what the current Nothing lineup looks like for the year (so far):
Ear 2 ($150)
Phone 2 ($500+?)
Beer 5.1% ($TBD)
Launch Date Details
Nothing has yet to share more details about the Phone 2 beyond that it's coming in "summer 2023" and will launch in the U.S. and a sign-up page on its website. More to come!