Here's a First Look at Nothing's Transparent Phone 2
The Phone 2 starts at $599 in the U.S.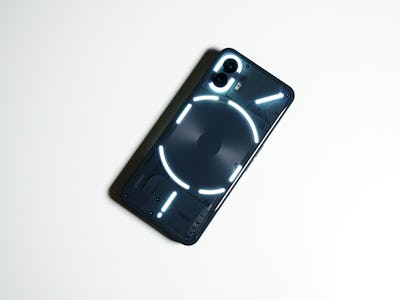 Photograph by Raymond Wong
Nothing has officially introduced the Phone 2. We've got a review coming very soon, but for now, enjoy this first look at Nothing's second-generation transparent Android phone and its upgraded design and Glyph Interface.
We also have the full tech specs and a preview of the Nothing OS 2.0 software the company has built from scratch thanks to talent poached from OnePlus. Not to mention, pricing details — the Phone 2 starts at $599.
Phone 2 Design
The Phone 1 made quite a bit of noise with its transparent design and literally flashy Glyph Interface. For the Phone 2, Nothing is not reinventing the wheel, choosing to hew to the iconic design established by the Phone 1.
The Phone 2 is a little taller and wider to accommodate its larger 120Hz 6.7-inch LTPO OLED display (up from 6.55 inches on the Phone 1), and the curved edges on the rear form a "pillowed glass back" that should make the device feel comfortable in the palm of your hand compared to the flat, iPhone-esque backside of the Phone 1.
Nothing Phone 2 has a curved "pillowed glass back" design that's easier to grip in one hand.

Photograph by Raymond Wong
Phone 2 (left) comparison with the Phone 1 (right).

Photograph by Raymond Wong
A close-up look at the Phone 2's transparent details.

Photograph by Raymond Wong
Nothing's Phone 2 has a 4700mAh battery that can be charged via wired USB-C or 15W Qi wireless charging.

Photograph by Raymond Wong
Nothing's selling the Phone 2 in two colors: white and dark gray. The dark gray unit I've been testing for the past few weeks is a much lighter shade compared to the black Phone 2. The lighter shade makes all of the individual pieces more visible.
Underneath the rear glass is, of course, the Glyph Interface. There are 11 different LED "segments" compared to the five on the Phone 1. This time around, the Glyph LEDs are more useful. You can set an "Essential Glyph Notification" so that selected contacts or app notifications remain lit up on an LED until you've addressed them.
The LEDs can also be used to display volume controls, a timer countdown, and tracking progress (for apps like an Uber ride). There's also a "Glyph Composer" that lets you create your own ringtone using Nothing's sound pack mapped to the LEDs.
The upper corner houses two cameras: a 50-megapixel main lens with Sony IMX890 sensor and f/1.88 aperture with OIS and EIS, and a 50-megapixel ultrawide lens with Samsung JN1 sensor and f/2.2 aperture. Around the front, the selfie camera has doubled in resolution from the Phone 1's 16 megapixels to 32 megapixels (Sony IMX615 sensor with f/2.45 aperture); the hole punch camera is also centered versus in the left corner.
And, yes, the semi-transparent USB-C-to-USB-C cable is included in the box.
Worth noting is that the Phone 2 metal frame and tray tip are made of 100 percent recycled aluminum. Nothing's also made it a point to use recycled and bio-based materials in 80 percent of its plastic parts, use 100 percent recycled tin in nine circuit boards, use 100 percent recycled copper in its main board, and use 90 percent recycled steel for "all 28 steel stamping parts." The company also uses 100 percent renewable energy for final assembly and its packaging is plastic-free.
Nothing OS 2.0 Software
Based on Android 13, Nothing OS 2.0 sports a toned-down monochrome home screen to encourage "intentional consumption" — the company's way to help users curb phone usage.
With an emphasis on slightly more functional widgets that provide information at a glance, launch a setting shortcut, or group apps into interactive folders, Nothing OS 2.0 is an attempt to get users in and out of their phones as quickly as possible. Obviously, you don't need to go full black and white if that's not your style. Do what you want, but Nothing seems to be embracing digital well-being as part of its identity and philosophy.
Phone 2 Tech Specs
Naturally, since the Phone 2 is aimed primarily at tech enthusiasts, specs matter. So here are the tech specs, all in one place. What do you think?
Display: 6.7 inches (2,412 x 1,080) 1–120Hz OLED / HDR10+ / 1,000 nits of brightness (1,600 nits peak)
Battery: 4,700 mAh / USB-C, 15W Qi wireless charging, 5W reverse wireless charging
Chipset: Snapdragon 8+ Gen 1
RAM: 8GB LPDDR5
Storage: 128GB / 256GB / 512GB
Cameras: 50-megapixel f/1.88 main + 50-megapixel ultrawide f/2.2 + 32-megapixel f/2.45 selfie
Software: Nothing OS 2.0 (Android 13)
IP rating: IP54
Biometrics: In-display optical fingerprint scanner
SIMS: Dual nano-SIM
Colors: white or dark gray
Dimensions: 162.1 x 76.4 x 8.6mm
Weight: 201.2 grams
Phone 2 Pricing and Release Date
The Phone 2 goes on sale in the U.S., U.K., Europe, and India directly at Nothing's online store on July 17 at 4 a.m. ET (9 a.m. BST). U.S., U.K., and Europe can pre-order the Phone 2 immediately.
In the U.S., the Phone 2 pricing is as follows: $599 for a Phone 2 with 8GB of RAM and 128GB of storage; $699 for 12GB of RAM and 256GB of storage; $799 for 12GB of RAM and 512GB of storage.
If you're in New York, there will be a pop-up kiosk on July 13 at 69 Gansevoort St. New York, NY 10014 open from 7–10 pm E.T. Buyers at the kiosk will get $50 off a Phone 2 (while supplies for the device last).
Here's pricing for other regions:
Canada:
8GB RAM + 128GB storage: $929 CAD
12GB RAM + 256GB storage: $999 CAD
12GB RAM + 512GB storage: $1,099 CAD
United Kingdom:
8GB RAM + 128GB storage: £579
12GB RAM + 256GB storage: £629
12GB RAM + 512GB storage: £699
U.K. customers who show up at Nothing's store in Soho, London will be able to purchase a discounted "Limited Launch Edition box" which includes a dark gray Phone 2 with 12GB of RAM and 512GB of storage, phone case, Ear Stick, and a 45W charger.
Europe:
8GB RAM + 128GB storage: €679
12GB RAM + 256GB storage: €729
12GB RAM + 512GB storage: €849