Your Next Item Tracker Could Do More Than Find Lost Keys
Samsung's next-gen SmartTag item tracker is rumored to integrate with smart home routines.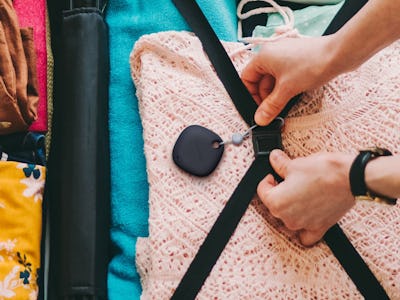 Samsung
If you're attaching an AirTag or Galaxy SmartTag to your belongings, shouldn't they do more than help you find them if they're lost? If reports from Naver (via Google Translate) are accurate, Samsung might feel the same way.
The next generation of the company's SmartTag item trackers will reportedly include the ability to trigger smart home routines on top of its location-tracking abilities, opening all sorts of automation possibilities without a smartphone present.
A More Useful Sensor
Samsung already updated its original tracker with ultra-wideband support in the SmartTag+, a key feature of the company's augmented reality experience for finding lost items and one of the headlining components of Apple's competing AirTags.
The next version of the SmartTags are expected to offer improved security options to prevent misuse — an issue both Tile and Apple have taken different tacts to address — and increased range and sound. The tags will also have "the ability to perform automated tasks on SmartThings-compatible devices," according to a Google Translated version of Naver. "Such as activating the system, dimming lights or controlling a Smart TV."
Depending on how open-ended this integration with Samsung's smart home platform is, the new SmartTags could fill in a variety of situations when you might want someone's presence to get your smart home going but don't necessarily have a smartphone in the picture. It's easy to imagine a younger kid coming home from school with a SmartTag on their backpack and SmartThings recognizing their presence, unlocking the front door, and turning on the TV. Or a SmartTag attached to a dog, notifying SmartThings that they're inside on a hot day and triggering the air conditioner to turn on. The options aren't limitless, but they are pretty varied.
Tech Without the Baggage of Screens
Galaxy SmartTags actually have an existing integration with SmartThings as essentially a remote as long as they're in range of a smartphone (see Samsung's example above); this update would make them even more flexible and reliable. The instinct is a good one. If there's anything the popularity of item trackers has proven — besides the fact we're all pretty scatter-brained in 2023 — it's that there are plenty of uses for the sensors in smartphones without the distracting baggage of screens.
AirTags, SmartTags, and Tiles are primarily focused on providing the general and specific location of something but imagine one of these trackers with a temperature sensor included. Or even sensors for detecting sound or light. These would let the tech around you more invisibly adapt to your needs without having to pull out a phone or tablet and theoretically allow it to do the same even outside of your own home. Samsung's hypothetical next tracker will likely offer the simplest version of this idea to start, but it could be the beginning of something big.