Windows 11's New AI Is a Chance to Fix One of Microsoft's Biggest Flops
First, chatbots came for Bing, then Microsoft Office, and now Windows itself.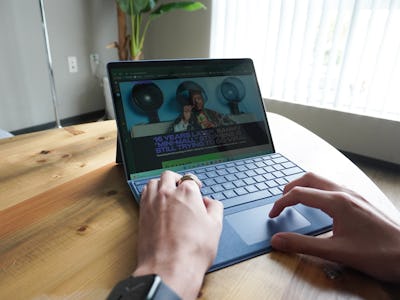 Photograph by Ian Carlos Campbell
Microsoft is taking another big step in its push to make artificial intelligence central to every piece of software it offers. We saw it reinvent Bing with an AI chatbot interface powered by OpenAI, and now, at Build 2023, it's expanding a version of those capabilities to the Windows operating system itself with Windows Copilot.
What Microsoft is offering now may be reminiscent of the chat interface it brought to Bing and the Edge browser earlier this year, but it has the potential to upend the main way people use their computers, from the search box that lives in the Windows taskbar to basically all of your apps.
Windows Copilot
To understand Windows Copilot, you have to understand Microsoft 365 Copilot and wade through a lot of enterprise-y branding and terminology. In March 2023, Microsoft introduced its concept of an AI copilot across its suite of enterprise apps like Word, Excel, and Outlook. Besides offering the natural language interface of the new Bing and the ability to generate and summarize text, Microsoft 365 Copilot is connected to all other Microsoft apps and the Microsoft Graph (the platform that lets developers connect to Microsoft's suite). That means, for example, you could have Copilot pull up a file you had saved in OneDrive for reference in a new Word document just by asking — a really easy way of saving you a lot of time (or having to remember what folder you stashed something in.)
For Windows Copilot, Microsoft seems to be carrying over some of that basic functionality and hooking up Copilot to the operating system and hardware of your PC. That gives Copilot control over software features like focus timers, dark mode, and window snapping, and similarly deep connections to other Microsoft apps like Teams. It can, of course, summarize and create text just and answer basic questions too.
It's a lot like what Microsoft imagined Cortana could be used for, including a dedicated software button for pulling up the chat interface, but with the flexibility and willingness to answer basically any request that the new Bing has demonstrated.
Edge & Plugins
Of course, Windows isn't the only one getting a Copilot. Edge, which previously had the new Bing chat interface slathered all over it, will now also get access to Microsoft 365 Copilot, with all of the work-related capabilities that implies. This makes a lot of sense for Microsoft, considering Edge, like Bing, is available in other places than just Windows machines. If your work computer is decked out with Microsoft 365, accessing work files from a Mac at home would require going to a separate website or app and logging in, but Copilot in Edge could dramatically simplify all of that by making it a request away.
Adding to the abilities of all versions of the Copilot and the Bing chatbot itself is a new system for developing plugins that will work across AI interfaces. ChatGPT — which uses the same large language model as Bing and Copilot — already supports plugins to connect the chat interface to outside apps and services. You could ask ChatGPT to order groceries for you over Instacart, for example. Microsoft is adopting OpenAI's plugin standard to make plugins interoperable across Bing, Copilot, and ChatGPT. We've seen glimpses of this idea with its implementation of OpenTable and WolframAlpha plug-ins in Bing, but Microsoft is promising thousands of plugins when the new development framework launches.
The Copilot Theory
Microsoft's chief technology officer Kevin Scott defines a copilot AI as "an application that uses modern AI, has a conversational interface, and helps you with cognitive tasks." It's a simple and broad definition that could include a lot of the generative AI products and experience you're currently able to access today, but implemented in the way Microsoft is trying in Windows 11, possibly a fundamental change to how you use your computer.
Starting with a chat interface or even spending a third of your time interacting with it is a major shift to the window, information, and attention management that makes up a lot of the time we spend using our computers. Freeing people up to do more of their work, whether that's by setting up their workspace optimally with a command, sending out emails at will so they can focus on something else, or just finding the right Spotify playlist, could make the average person's day noticeably easier.
Forgive me for making the comparison again, but it's very similar to the fantasy of the voice assistant that never quite materialized with Siri, Cortana, Google Assistant, or even Alexa. All are capable in their ways, some more so than others, but frequently return the two things people don't want to hear. A wrong response or no response at all. Say what you will about the accuracy of generative AI chatbots, but they almost always have some kind of answer. Whether working side-by-side with their computer and conducting an orchestra of applications is the future of computing is maybe something for Windows 12 to answer, but Microsoft is certainly setting things on an interesting path with these updates to Windows 11.
Microsoft will begin publicly testing Windows Copilot in June. The company didn't announce a specific rollout plan for Microsoft 365 Copilot in Edge or its new AI plugins.