Microsoft Brings Chat History and AI-Powered Dinner Reservations to Bing
An update to Microsoft's next-gen Bing is bringing added functionality to its ChatGPT-powered Edge browser.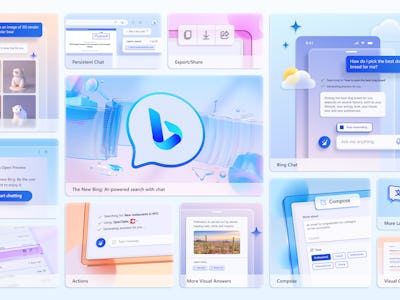 Microsoft
The Bing ball is rolling. It seems like just yesterday that Microsoft's Bing was a search engine destined for obscurity, but today — in this AI-obsessed world — it's already hit 100 million daily active users.
As you're probably already aware, that reinvigorated popularity is thanks to deep integration with ChatGPT, OpenAI's influential chatbot, which seems to be cropping up everywhere these days — even in places that it arguably shouldn't.
While Microsoft already has a sizable lead on Google's Bard in the realm of chatbot-powered search, it clearly isn't content to give its advantage up anytime soon, which is why it's now rolling out several major updates to ChatGPT-powered Bing. Below are the highlights you need to know.
Bing is now in open preview
Despite Bing's explosion in popularity, its ChatGPT-powered features have remained in limited preview; a bit of a misnomer considering millions of people are now using the new Bing.
At any rate, the transition to open preview means there will be no more waitlist, so if you want to start using Microsoft's chatbot-powered search, all you have to do is sign into your Microsoft account and get rolling in either Microsoft's Edge web browser or directly through Bing.com.
It's an obvious progression, yes, but also a sign that Microsoft is confident that it's ready to have Bing take on the masses.
Chat history and sharing
Keeping a log of prior chat queries might not be the sexiest feature, but according to Microsoft, it is among the most requested. Users of the new Bing will now have a log of previous queries allowing them to jump back into prior chats and keep rolling. The previous queries are populated on the right side of Bing's chat interface similar to how prior chatbot queries work in ChatGPT's own interface.
According to a Microsoft spokesperson, how many chat queries Bing will retain is a bit of a work in progress, but the intent is to hit a practical number that doesn't clutter its interface.
On top of being able to return to previous chats, Microsoft is also allowing users to share their queries either on social media or export them to a colleague or friend. Social sharing can be launched by clicking a share button, and to share with a friend, users can copy and send a link to their unique chat.
More functionality and plugins
Microsoft says that Bing's chatbot search will get smarter, too, and allow users to give the chatbot the reins more often. This shows up in integrations for services like OpenTable, which will get its own Bing plugin.
With the OpenTable integration, users will be able to ask Bing's chatbot to set up reservations with queries like "Find me a reservation at a new restaurant in New York City for 7 p.m."
From there, users are thrown directly into OpenTable and can lock in their reservations if they choose. Likewise, plugins like those from WolframAlpha will allow users to create mathematical charts in their own chats.
Or if math and hipster cocktails aren't your things, you can also query Bing to find you somewhere to watch your favorite movie or TV show. Just type in what you want to watch and Bing will present you with the options you have to watch it. If Apple TV, for example, is your preferred method, you can type "Play on Apple TV" and go straight into your viewing experience.
Personally, I'm not sure this last one provides a ton of utility over, say, Googling a show or movie, but hey, it can't hurt. Either way, we can expect more plugins coming soon.
Bing Multimodal search
It wouldn't be future search without the ability to incorporate images and video. With its latest update, Microsoft will allow users to query Bing with questions about images included in the chat. For example, if you come across a cute piece of hand-knitted clothing online, you can include a picture of what you saw and ask, "How do I make this?"
It's a rebuttal to the same kind of multimodal search that Google has been moving towards for some time, but with a characteristic Bing chatbot twist.
Speaking of images and video, Bing users can also expect to see more of those mixed in with their results, creating a more multimedia-rich search experience. Microsoft will give users the option to open videos in their ongoing chat, too, as to not disturb the chatbot flow. In addition to videos and images, users can also expect to see more charts and graphs in the mix.
When can you use Bing's new features?
While the open preview is effective immediately, Microsoft said most of the new features I just described are coming "soon" or "shortly." For what it's worth, Inverse was invited to a hands-on demo to see most of the features outlined above and many of them looked like final products.
If increasing heat from Google's Bard is any indication, Microsoft will want to keep the Bing train moving at a decent clip.