Leica's Expensive New Instant Camera Combines the Best of Digital and Film
True to the Leica brand name, it's still wildly expensive for an instant camera.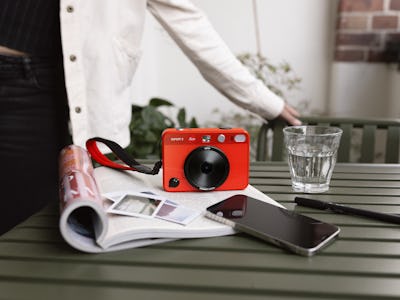 Leica
If you're looking for an affordable way to brag about shooting Leica, the Sofort 2 is the answer. Leica debuted its latest instant camera which sits at the lower end of its product range at $389. While that may be cheap for a Leica, it's still very expensive for an instant camera.
The Sofort 2 is Leica's second-generation instant camera and improves upon the design with a hybrid approach. Instead of printing immediately after shooting, Leica's Sofort 2 lets you shoot digital photos that you can print on demand. You can even print photos that you've taken with your other Leica cameras. Leica took a lot of inspiration from the Fujifilm Instax Mini 90 for the original Sofort and it has done the same by drawing from the Instax Mini Evo hybrid instant camera for its latest instant camera.
LO-FI LEICA
The Sofort 2 has several shooting modes to match the occasion, including a selfie mode that has a separate shutter button, a landscape mode, and a macro mode. You can further customize your shots with the camera's 10 different lenses and 10 film effects. Leica is making its own film packs that come in either a white or gold border, but you can also use Fujifilm's Instax Mini film for a more affordable way to shoot with the Sofort 2.
As an instant camera, we're not expecting groundbreaking specs even if it is a Leica. The Sofort 2 has a 1/5-inch CMOS sensor that produces 4.9-megapixel photos. Most people will be shooting this instant camera in automatic, but the aperture ranges from f/2 to f/16, has shutter speeds up to 1/8000 seconds, and an ISO of up to 1,600. The Sofort 2 can store up to 45 images with its internal storage, but you can expand that with its microSD card slot. Leica's instant camera lasts about 100 shots before needing to recharge, which you can do via USB-C.
AFFORDABLE OR ABSURD?
Depending on who you ask, the Leica Sofort 2 could draw opposite answers when it comes to value. At nearly $400, the Sofort 2 is one of the more expensive instant cameras out there, getting close to the steep price tag of the Polaroid I-2. For those of us who can afford one of Leica's traditional cameras often that start at around $6,000, the Sofort 2 might feel like a fun portable printer accessory.
The Sofort 2 will come in black, white, and that iconic Leica red, with deliveries starting November 9. Leica's Sofort film packs come with 10 shots and start at $15, but you can also just use Fujifilm's Instax Mini film packs which are often $15 for 20 shots.