These 7 Instant Cameras Are Way More Fun Than Shooting With an iPhone
We've cherry-picked the best instant cameras from Fujifilm, Polaroid, and Lomography.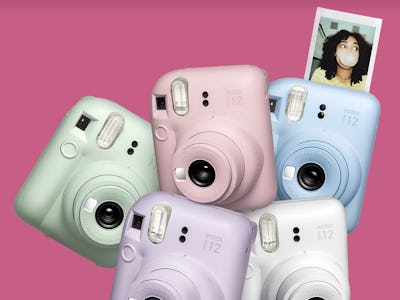 Fujifilm
We may receive a portion of sales if you purchase a product through a link in this article.
Instant cameras are extremely popular these days. They're fun to shoot with and the washed-out and lo-fi prints you get are one of a kind compared to photos taken with a phone.
Fujifilm and Polaroid pretty much dominate the instant camera market, which isn't surprising considering their storied pasts producing film and analog cameras.
With so many instant camera options, which model do you choose? That really depends on the instant film format (i.e. Instax Mini or Polaroid 600) and whether or not you want camera bells and whistles like autofocus and manual controls.
These are best instant cameras to get you started or evolve your hobby (if you're already addicted like us).
POLAROID I-2
Polaroid answers the question of what a professional-level instant film camera looks like, tacking on a high price tag to match. Polaroid says the I-2 will deliver the sharpest shots of any of its instant cameras and is compatible with all of its films — so long as they're type 600 film.
FUJIFILM INSTAX MINI 12
Fujifilm's most popular instant camera received a refresh with the Instax Mini 12 which features a redesigned grip and shutter button. The Instax Mini 12 still holds onto all the things that made it great, like a selfie mirror, quick prints, and fun colors.
POLAROID NOW+
This Polaroid instant camera is for those of us who don't want to shell out $600 for the I-2 but still want to experiment with some manual controls and extra options like light painting and double exposure modes (through the Polaroid companion app).
FUJIFILM INSTAX MINI EVO
If you're chasing the aesthetic of instant analog photography, you might as well have the camera to match. While Fujifilm's Instax Mini Evo is a hybrid camera since it can snap photos digitally and also act as a printer, it bundles the best of instant camera design into a retro aesthetic in black or brown.
FUJIFILM INSTAX SQUARE SQ40
Most of Fujifilm's instant cameras print on its Instax Mini film that's sometimes just a little too mini. If you want the same easy-to-use design as Fujifilm's other instant cameras in a wider format, there's the Instax Square SQ40. With that extra real estate, it's way easier to fit everyone into those group selfies.
LOMOGRAPHY LOMO'INSTANT WIDE
Lomography may not be as popular of a brand as Fujifilm or Polaroid, but its image quality makes up for its lesser-known brand name. Lomography has several models that use different-sized Instax films, but the Lomo'Instant Wide takes advantage of its high image quality by printing on the wider instant film. The camera comes with colored gel filters and Lomography also offers a bundle that includes different lenses.
FUJIFILM INSTAX PAL
The Fujifilm Instax Pal is technically more of a digital camera since you have to pair it with a printer, but its compact form factor — this thing is just barely bigger than an AirPods case — means you can bring it anywhere.