Fujifilm's Tiny Instant Camera is the Size of An AirPods Case
It may not be able to print instant photos on its own, but it's adorably compact.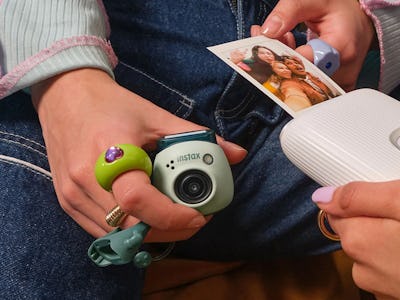 Fujifilm
Fujifilm Instax may already have a lineup of Mini instant cameras, but the Instax Pal is its smallest offering yet. Technically, the Instax Pal should be categorized as a digital camera since it can't print instant photos on its own, but it still embodies all the fun of Fujifilm's instant cameras in an unbelievably small form factor.
While the Instax Mini series may be Fujifilm's most popular instant camera lineup, the Instax Pal will definitely serve as the most portable. Fujifilm essentially stripped away all the bulk of its instant cameras and reduced it to something that's about the size of an AirPods case.
MINI PHOTO MAGIC
Considering its tiny size, you can't expect much in terms of photo quality. The Instax Pal is packing a 1/5-inch CMOS sensor with a lens that stops down to f/2.2. There are a bunch of automatic settings for shutter speed, ISO, and white balance, but you can adjust the flash and self-timer settings. There's also an interval shooting mode where you can get up to 21 continuous images that are snapped at three-second intervals. In this case, it's probably better that the Instax Pal doesn't immediately print out your shots.
You can't get much simpler than the design of the Instax Pal, which packs in a surprising amount of functionality. Most of its features come through pairing it with the Instax Pal smartphone app though, which allows you to apply 18 different filters, add text or in-app stickers to your shots, or customize the shutter sound by adding personal audio.
Once you're ready to print, you have to pair the Instax Pal with either a bundled printer, another Instax Link Series printer, an Instax Mini Evo, or the Instax Mini Liplay. On its own, the Instax Pal can store up to 50 images, but you can expand this thanks to the inclusion of a microSD card slot.
PURPLE INSTAX PRINTS
Fujifilm says the Instax Pal will first be available in a bundle that includes the camera in Pistachio Green, the Instax Mini Link 2 Smartphone printer, and a 10-pack of Instax Mini white border instant film. It will be available in late October at a retail price of $199.95. That may feel expensive for a tiny instant camera setup, but film ain't cheap. There's no word if Fujifilm plans to sell the Instax Pal on its own yet.
Along with the Instax Pal bundle, Fujifilm is introducing another variation of its Instax Mini instant film that comes in a Soft Lavender design. Obviously, you can use the latest shade of instant film with the Instax Pal and its accompanying printer, but it'll work with any Instax Mini camera.